Kamala Harris Says 2020 Isn't Over Until After Georgia Runoffs: 'Everything Is at Stake'
Vice President-elect Kamala Harris told Georgians on Monday that this year won't be over until after their state's unprecedented double Senate runoffs next month.
"You know 2020 has been a difficult year, 2020 has been rough," Harris said at a drive-in rally in Columbus. "But you know what, as far as I'm concerned, Georgia, Columbus, 2020 ain't over until January 5. That's when 2020 will be over."
She continued, "That's when we will get this thing done because, as you know, everything is at stake when it comes to the need to elect Reverend Raphael Warnock, to elect Jon Ossoff.... Everything that was at stake in November is at stake leading up to January 5."
Harris' trip to the Peach State comes just days after President-elect Joe Biden's visit to Atlanta to promote Ossoff and Warnock. Biden told the crowd, "I need two senators who will get something done, not two senators who will get in the way."
If the two Democrats win their races, party control of the Senate would be split 50-50 and Harris would cast any tiebreaking votes. But if the Republican incumbents, David Perdue and Kelly Loeffler, hang on to their seats, Republicans will continue to have a majority in the upper chamber.
Since in-person early voting in the Peach State began on December 14, more than 1.4 million residents have cast their ballots, according to data from the election website Georgia Votes. So far, turnout for the Senate runoffs is on par with the turnout for the November 3 presidential election.
Polling averages from FiveThirtyEight show both races to be close, as Perdue holds a 0.6-point lead over Ossoff and Loeffler has a 0.1-point lead over Warnock.
Democrats are riding a blue wave in Georgia after the state went for Biden over President Donald Trump. Biden is the first Democrat to win the traditionally red state in nearly three decades. He defeated Trump by 11,779 votes.
"You flipped this state blue, and come January 5, when you send me and Jon Ossoff to the United States Senate, we are going to seal the deal," Warnock said at Monday's event. "So make sure that we keep this momentum going all the way to January 5. Don't let up for one day."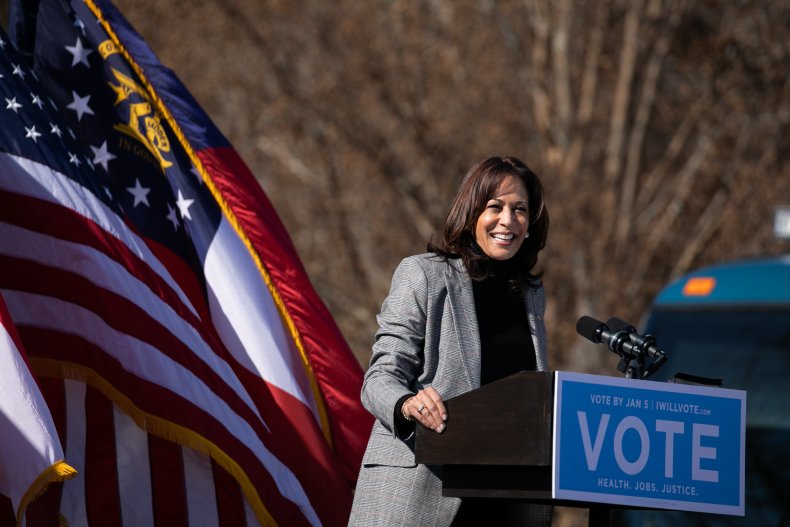 Harris started her speech in Columbus by thanking residents for turning out in November, joking that "no good thank-you comes without asking for a little bit more." She said the stakes are just as high for the Senate runoffs as they were for the general election.
"I am here to say that the decision you make, the work that you put into it, will impact people who you may never meet, people who may never know your names. But because of what you have done and are prepared to do, their lives will forever be better," the vice president-elect said.
"It is within our power to change the course of the history of this country," she added.
Trump has disputed the election results in Georgia and other key battleground states. Earlier this month, he joined a lawsuit from Texas Attorney General Ken Paxton aiming to overturn the vote count in Georgia and three other states. The lawsuit, supported by Loeffler and Perdue, was soundly rejected by the U.S. Supreme Court.
The president's daughter Ivanka was also in Georgia Monday, to campaign for her party's candidates. She predicted that Georgia would reelect Loeffler and Perdue next month and as a result "save America."
"Georgia will decide whether our children will grow up under an oppressive government or whether America will remain the land of the free," she said at the campaign event.