Kamala Harris Says Angela Merkel Asked Her 'What's Going On' in America
Democratic Vice President Kamala Harris said that German Chancellor Angela Merkel asked her "what's going on" in regards to authoritarianism and democracy in the United States.
Harris mentioned the conversation during her speech at a Friday evening campaign event for Democratic Virginian gubernatorial candidate Terry McAuliffe.
In her speech, Harris marked the race between McAuliffe and his Republican challenger Glenn Youngkin as a choice between visionary progress or "turn[ing] back the clock."
In particular, Harris praised McAuliffe and the state's Democratic leadership for expanding voting access, implying that Youngkin would support Republican efforts to restrict voting access.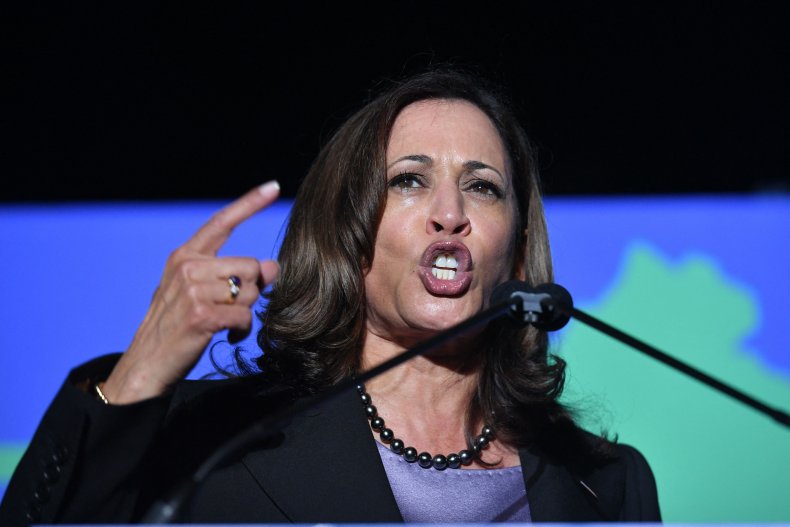 Harris then said that every day as vice president, she reads a presidential daily briefing (PDB) about "threats to our nation's security" around the world.
Based on the PDB, Harris told the audience, she said there's "a real conversation happening around this world about the battle between democracies and autocracies." People around the world are looking to the actions of the United States, she said, in order to decide whether a country can be a strong democracy or whether it doesn't actually work.
"I have had direct conversations with leaders from all over the world on this," Harris continued. "I have had conversations where I had the Chancellor of Germany Angela Merkel at the official residence of the vice president. Had her over for breakfast. And that was a topic she raised. 'What's going on?' is essentially what she said." The audience laughed.
Harris said that she told Merkel, "The American people will always stand for the pillars of our democracy."
"As imperfect as we are, as flawed as we may be," Harris added, "one of the strengths of who we are as a nation is we always fight for our ideals."
McAuliffe, Harris and Democratic President Joe Biden have all sought to tie Youngkin to Republican former President Donald Trump. McAuliffe's campaign has depicted Youngkin as a threat to democracy, reproductive freedom, voting access and other social progress made under the state's Democratic governor and Democratic-led legislature.
Politicians, such as former Democratic presidential candidate Marianne Williamson, have linked the Republican Party under Trump's influence with authoritarianism.
"From voter suppression bills to the purging of the Republican Party of anyone with any hint of disloyalty to the former president, the authoritarian movement spawned by the ex-president is growing tentacles and metastasizing," Williamson wrote in a May 2021 Newsweek op-ed.
McAuliffe maintained a consistent lead over Youngkin in summertime polling. However, recent voter surveys have shown the two nearly in a dead heat.
Newsweek contacted McAuliffe's campaign for comment.