Vice President-elect Kamala Harris said on Thursday that Joe Biden's administration "cannot yield to those who would try and make us afraid of who we are," ahead of the president-elect's inauguration.
"We are a work in progress, but we cannot abandon the appreciation that we should all have for the traditions that are symbolic of our commitment to our democracy, which includes a peaceful transfer of power, which includes what we do to bring in one administration after another in a way that is about upholding basic standards, and in particular, those standards as outlined in the Constitution," Harris said during an interview with NPR.
Harris's comments came while speaking about the upcoming inauguration and the increased security detail around it, following the deadly January 6 riot at the U.S. Capitol where supporters of President Donald Trump breached the building in an attempt to overturn his loss in the election.
In response to the incident last week, roughly 15,000 National Guard members were deployed to Washington D.C. On Wednesday, Metropolitan Police Chief Robert Contee announced that he expects "upwards beyond 20,000 members of the National Guard" following reports of planned violent protests during Biden's inauguration.
During her interview with NPR, Harris also touched on the Capitol riot, calling it "horrific."
"It was a day that wherein we witnessed an assault on America's democracy, a day when we witnessed the terror that a few can wreak on so many," she said. "And it was probably, you know, it will be in history recorded as one of the worst days in terms of an attack on the integrity of our democracy."
Earlier this week, the the Democratic-led House of Representatives voted in favor of impeaching Trump for "incitement of insurrection" as they believes his rhetoric sparked the violence. His impeachment trial will move to the Senate, but Senate Majority Leader Mitch McConnell rejected the Democrats' calls for an emergency session to convict Trump, indicating that the trial won't happen until after Biden's inauguration.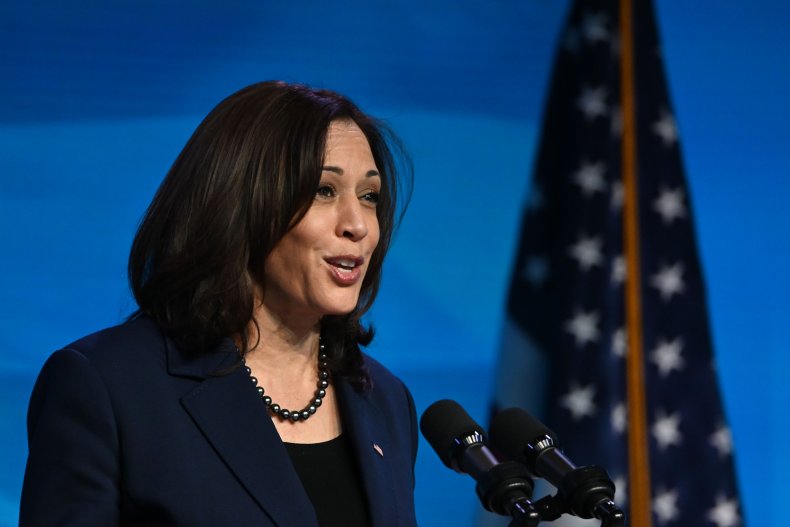 "Given the rules, procedures, and Senate precedents that govern presidential impeachment trials, there is simply no chance that a fair or serious trial could conclude before President-elect Biden is sworn in next week," McConnell said in a statement.
Harris was also asked during her NPR interview about how Biden's administration will handle the impeachment trial on top of tackling other issues, such as passing a $1.9 trillion stimulus plan.
"We know how to multitask," the vice president-elect said. "We have to multitask, which means, as with anyone, we have a lot of priorities and we need to see them through."
Newsweek reached out to Biden's transition team for comment, but did not receive a response in time for publication.