Kamala Harris Says Lawmakers Have to 'Stop Living in a Bubble' and Pass COVID Relief
Vice President-elect Kamala Harris criticized lawmakers for taking so long to pass another stimulus package as millions of Americans struggle economically during the coronavirus pandemic.
"The people here in Washington, D.C., have got to stop living in a bubble," Harris said. "The people have a right to expect that their leaders in Congress see them and act in their best interest."
The California senator and President-elect Joe Biden's VP added, "I can speak for Joe and me: We were elected to do a job, and we intend to bring everybody along who wants to do the job with us."
Harris made the remarks during an interview with Good Morning America co-host Robin Roberts that aired Wednesday morning. It was the vice president-elect's first solo interview since the 2020 election, and it took place at her alma mater, Howard University in Washington, D.C.
It's been more than eight months since Congress passed its first major coronavirus relief package, the historic $2.2 trillion CARES Act. Since then, negotiations for a much-needed second bill have repeatedly stalled as Republicans and Democrats have fought over the size and scope of new legislation.
Now, lawmakers find themselves in a time crunch to provide relief before adjourning Friday for the holidays. The vice president-elect noted that the moratoriums on evictions and foreclosures are about to end, as are extensions and enhancements to unemployment benefits.
Congressional leaders appear to be nearing a possible deal on a new relief package. The New York Times reported Wednesday that the legislation is expected to cost roughly $900 billion and include a new round of stimulus checks, as well as additional funding for small businesses and unemployed Americans.
"I don't understand the hesitation," Harris told Good Morning America. "The people are suffering."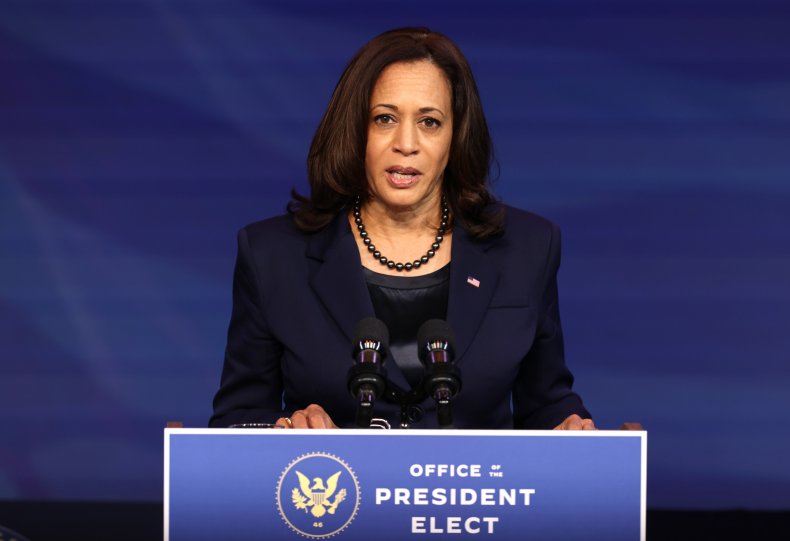 The Electoral College officially formalized Biden and Harris' victory on Monday. The two Democrats amassed 306 electoral votes, far more than the 270 needed to defeat President Donald Trump, who was awarded 232.
But Trump still refuses to concede, claiming the election was "stolen" and "rigged." The president and his Republican allies have launched dozens of lawsuits since November 3 alleging widespread voter fraud and election irregularities, but without evidence. Nearly all of them have failed.
Asked about Trump's reluctance to acknowledge the election's outcome, Harris told Good Morning America, "Our democracy is stronger than any one man or woman. It is about the people. And the people spoke."
Harris has made history as the first woman, first Black American and first Asian-American to be elected vice president.
"I feel a very big sense of responsibility," Harris told Roberts. "As I said recently, that I will be the first, but I will not be the last. I was raised by a mother who said that to me all the time: 'Kamala, you may be the first to do many things. Make sure you are not the last.'"