Kamala Harris Says Tyre Nichols Beating 'Not in Pursuit of Public Safety'
Vice President Kamala Harris described the police beating of Tyre Nichols as a "violent act" that "was not in pursuit of public safety" during remarks she delivered while attending Nichols' funeral in Memphis, Tennessee.
"It was not in the interest of keeping the public safe," Harris said. "Because one must ask: Was not it in the interest of keeping the public safe that Tyre Nichols would be with us here today? Was he not also entitled to the right to be safe?"
Nichols' funeral was held on Wednesday, about three weeks after his death following a January 7 interaction with Memphis police officers. The incident started with a traffic stop and ended with Nichols' beating. Nichols died three days later.
Five officers were fired from the department and now face several charges, including second-degree murder, in connection with Nichols' death. The Memphis Police Department suspended two other officers this week.
Body camera footage from the incident was released late last week. The footage has revived conversations throughout the U.S. about police reform.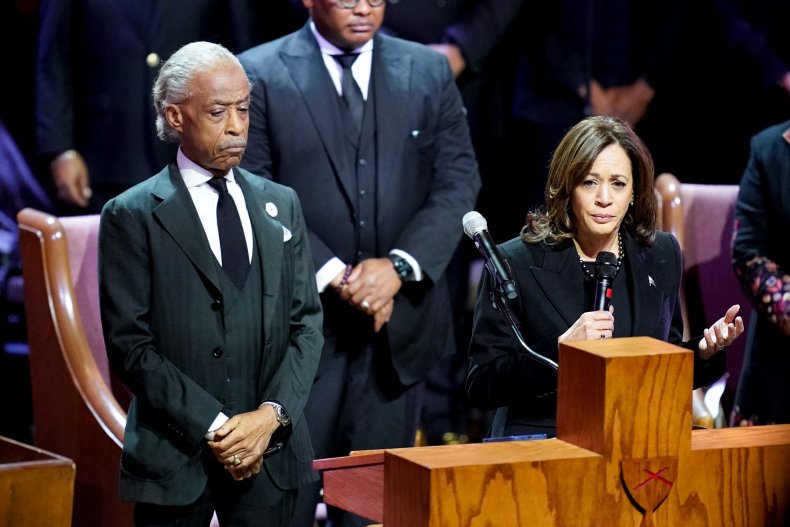 Harris was invited to attend Nichols' funeral after speaking with his parents on Tuesday, according to Ben Crump, an attorney representing Nichols' family. Harris flew into Memphis on Wednesday to attend the service, the start time of which was pushed from Wednesday morning to Wednesday afternoon due to inclement weather.
Harris was not listed as a speaker on the funeral program, a point her press secretary mentioned to reporters traveling with the vice president. But Reverend Al Sharpton, who delivered Nichols' eulogy, invited Harris to speak shortly after he began his own remarks.
Sharpton's mention of Harris' attendance sparked a round of applause among people gathered for the service at Mississippi Boulevard Christian Church.
"I was going to be polite about it," Sharpton said. "But since you all stood up and clapped so long—wouldn't it be nice for her to share a few words with us?"
Harris began her remarks by telling Nichols' mother, RowVaughn Wells, and stepfather, Rodney Wells, that they "have been extraordinary in terms of your strength, your courage, and your grace."
Harris said Nichols "should be here today."
"And when we look at this situation, this is a family that lost their son and their brother through an act of violence at the hands and the feet of people who had been charged with keeping them safe," she said.
Harris then addressed her involvement with the George Floyd Justice in Policing Act, which she helped introduce while serving in the U.S. Senate. In reaction to Nichols' death, Harris and President Joe Biden have both called upon members of Congress to move forward with the bill, which has thus far been stalled.
Harris said that, as vice president, "we demand that Congress pass the George Floyd Justice in Policing Act." The president "will sign it," she added.
"And we should not delay, and we will not be denied. It is non-negotiable," Harris told the crowd.
Crump and Sharpton also encouraged movement on the bill during their remarks at Nichols' funeral. Crump reiterated his call for action with a clip of Harris' remarks that he shared on Twitter.
"If our legislators truly care about keeping the public safe then Congress must work to pass The George Floyd Justice In Policing Act," Crump tweeted.
Newsweek reached out to Crump's office for further comment.