Kamala Harris' Senate Seat Should Go to Barbara Lee | Opinion
Vice President-elect Kamala Harris made her mark as the first Black woman elected to the U.S. Senate representing California and only the second Black woman in the country's history to be elected to the legislative body. When she leaves the Senate, there will be no Black woman in the Senate—no one to represent Black women's courage of conviction or excellent organizing and leadership. No one to represent those who were the firewall protecting our democracy from Donald Trump. When she assumes her role as vice president, Harris will be creating a vacancy that should be filled by someone who will honor the state's historical choice of a fearless, progressive Black woman.
I see no better choice than Representative Barbara Lee. She makes California proud, and she will solidify our leading legislative role nationally.
Lee represents my hometown of Oakland, California. I have followed her progress as a California legislator, where she authored 67 bills and resolutions that were signed by then-Governor Pete Wilson, to her current role as a congressional representative, where she has been serving the state's 13th District since 1998. All these years later, when you ask those of us in her East Bay district—and people throughout California—they say: Barbara Lee speaks for me.
Over the course of her career, she has built a strong and consistent record and brought together people from different ideologies, socioeconomic and racial backgrounds. Of all the excellent candidates discussed, including Representative Karen Bass of California's 37th District, Lee is the leader who can best command the role as Harris has and, more importantly, serve as a unifier during one of the most divisive times in our country's history.
According to a recent poll of registered voters from the USC Schwarzenegger Institute, voters agree. When they were asked to choose between specific names of people who may replace Harris in the Senate, Lee led the pack.
California Governor Gavin Newsom, who is charged with choosing Harris' replacement, should take heed: This is no time to reverse the progress that has been made. Black women were crucial to delivering the White House and key down-ballot races, and Lee has been a fierce champion for marginalized communities as the chair of the Democratic Whip Task Force on Poverty and Opportunity; an advocate for ending HIV, authoring or co-authoring every major piece of HIV/AIDS legislation; and a member of the Budget Committee and Appropriations Committee. She would be one of the most experienced elected leaders to enter the Senate.
Lee recently told me about how she, as a single mother raising two sons, received public assistance. She marveled that now, as a member of the Budget Committee, she is responsible for allocating the money she once benefited from. This is her power. Lee governs with empathy, passion and conviction because she knows firsthand how our government's actions can directly affect our communities and everyday lives.
Harris is often credited for her fearlessness when showing her prosecutorial chops. This will not be lost on Lee, who has shown she is willing to stand her ground—even when that means she stands alone. She received national headlines after being the only member of Congress to vote against authorizing the use of force for President George W. Bush following the terrorist attacks on September 11, 2001.
The House passed the Authorization for Use of Military Force (AUMF) 420 to 1, with Lee casting the only "nay" vote. She explained her vote in remarks delivered to the House floor on September 14, 2001, saying, "This unspeakable act on the United States has really forced me to rely on my moral compass, my conscience and my God for direction. September 11 changed the world; our deepest fears now haunt us. Yet I am convinced that military action will not prevent further acts of terrorism against the United States."
Lee received so many death threats in response, she was forced to get 24-hour security detail. Yet she has continued to speak out about the 2001 and 2002 AUMFs giving the White House a blank check to wage war in many countries, as Lee predicted, feared and fought against. This is the type of unapologetically courageous leadership we need, and that we know Lee will deliver.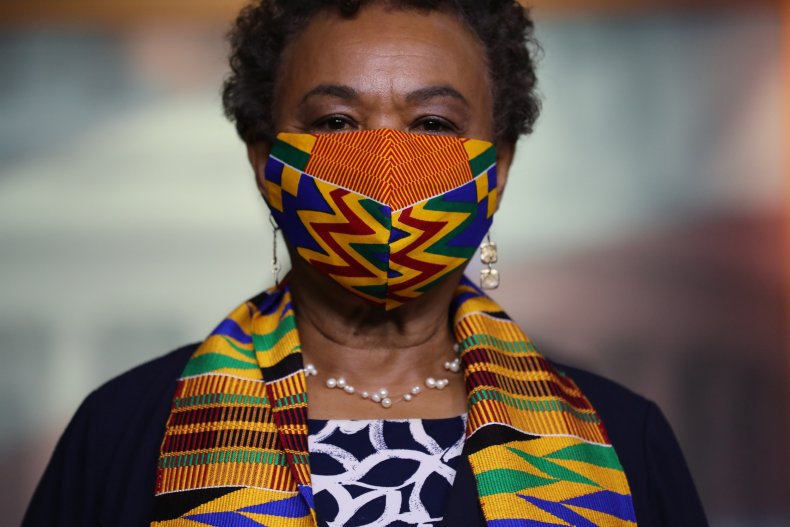 Though her name wasn't on the House resolution to halt hostilities with Iran in January, her colleagues insisted the congresswoman deserves credit for leading the effort to control the expansion of presidential war powers.
"The historical and current credit needs to be given to her," Representative Raúl Grijalva of Arizona said at the time. "Even if it was a Democratic president, even if it was Obama, it was her courage and her consistency to say, 'This is a role for Congress.' More times than not, history has proven her right."
And even as she demonstrates her ability to stand alone, she is a proven bridge builder. She helped bridge the divide between the more left-leaning and moderate parts of the Democratic Party in 2016, for example, after Hillary Clinton won the nomination, solidifying the importance of her role to all parts of the California Democratic Party, building upon her popularity among her constituents and peers, and earning respect among those who hadn't heard of her until then.
For Newsom, the choice is clear: We need Barbara Lee in the Senate.
Aimee Allison is founder and president of She the People, a national network of women of color in politics. She is a columnist for Newsweek.
The views expressed in this article are the author's own.