Kamala Harris Shares Note She Sent to Goddaughter About Judge Jackson Vote
As the Senate confirmed Ketanji Brown Jackson as the first Black woman Supreme Court justice, Vice President Kamala Harris wrote a note to her goddaughter about what the historic vote would mean for future generations.
Harris on Friday posted to Twitter the note for her goddaughter, Helena, where the vice president conveyed her elation and optimism at seeing Jackson confirmed. The note is the latest in the emotional outpouring that's followed Jackson's ascendance to the country's highest court.
"I sit here with a deep sense of pride and joy—for this moment in our history and what I believe will mean for you and all the current young and future leaders of our country," wrote Harris on the stationery marked by the vice president's seal.
Harris smiled as she called for the vote Thursday and the chamber broke out in applause as Jackson was confirmed 53-47. The vote makes Jackson the first Black woman to serve on the Supreme Court in its more than 200-year-old history.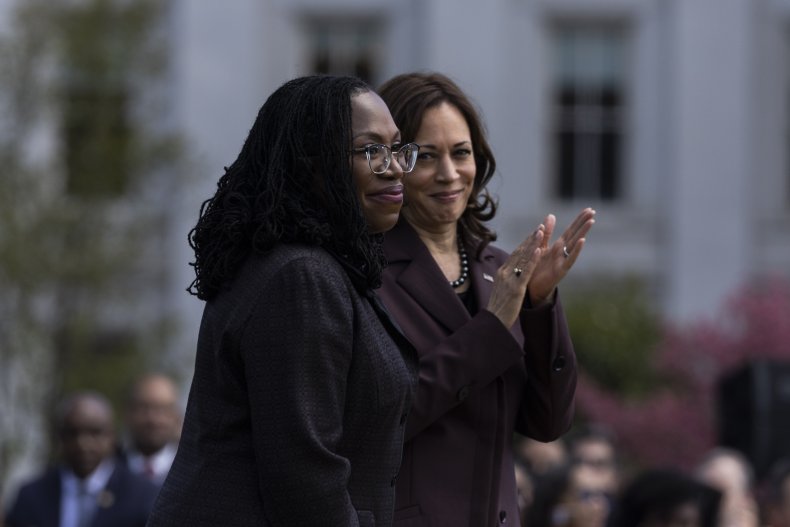 During the vote, Harris passed a pen and paper to Georgia Senator Raphael Warnock, one of only three Black members of the chamber, who penned a letter to his daughter Chloé.
Following her election in 2020, Harris became the first woman, first Black person and first person of South Asian descent to serve as vice president.
President Joe Biden and Harris celebrated Jackson's confirmation outside the White House Friday, highlighting how her confirmation would shape future generations.
Harris told Jackson during the event that she planned to tell her goddaughter that "her braids are just a little longer than yours."
"So, indeed, the road toward our more perfect union is not always straight, and it is not always smooth. But sometimes it leads to a day like today—a day that reminds us what is possible—what is possible when progress is made and that the journey—well, it will always be worth it," said Harris.
During the event, Jackson thanked her family and the judges she had clerked for, including the retiring Justice Stephen Breyer, whom she will replace. She also thanked "each member of the Senate," noting that she had 95 personal meetings with 97 sitting senators.
In her remarks, Jackson said her children now tell her that they see anything as possible in America.
"They also tell me that I'm a role model, which I take both as an opportunity and as a huge responsibility," she said. "I am feeling up to the task, primarily because I know that I am not alone."