Kamala Harris Shown Boy's 'Lead Monster' Drawing During Stop Touting Infrastructure Bill
During a Monday stop in Milwaukee focused on the funding in the infrastructure law signed last year to replace lead pipes in Wisconsin and across the country, one activist who said her son has been hospitalized twice because of lead poisoning showed Vice President Kamala Harris her son's drawing of the "lead monster."
"Too many moms are going through the same thing that I went through. And too many little boys and girls are going through (what my son) went through," activist Deanna Branch said when introducing Harris, according to The Associated Press.
Harris spoke to state government officials and community leaders, as well as union workers who are beginning to replace lead pipes in Milwaukee, the AP reported.
About $15 billion was approved by Congress in the infrastructure bill to replace the lead pipes across the country, which is about a third of what the White House and other experts have said it will cost to fund the full replacement of lead pipes nationwide. A total of $55 billion was dedicated to improvements of larger water infrastructure around the U.S. in the infrastructure bill.
Another $20 billion for lead pipe replacement was included in President Joe Biden's $3.5 trillion Build Back Better bill that Biden has conceded may have to be broken up into smaller bills to get key portions passed.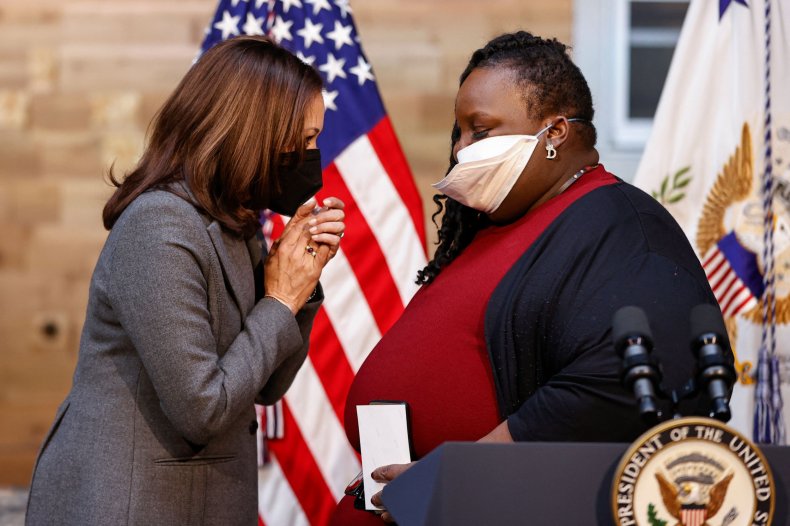 The White House has estimated somewhere between 6 to 10 million homes and 400,000 schools get water through lead pipes, putting them at risk of toxins leaking into the water and causing developmental and neurological damage, especially in children, the AP reported.
Lead pipes and the damage that can be caused by them have become a national point of emphasis in recent years since the 2014 revelation that water contaminated by lead pipes had been sent into the homes of residents of Flint, Michigan for as long as 18 months before the city changed where its drinking water came from.
In December, Michigan announced that its state Senate had passed a $3 billion plan to replace lead pipes around the state, with over $2 billion from federal funding through the infrastructure bill and pandemic relief funding.
"Eliminating lead exposures in our nation must be among our nation's highest priorities," Harris said in Milwaukee on Monday, according to the AP.
The Environmental Protection Agency previously announced in December that the first round of about $3 billion was being sent to states, with Wisconsin set to receive $48 million. City and state officials have estimated that it will cost about $800 million to replace all the lead pipes in Milwaukee alone, the AP reported.