Kamala Harris Slammed for Going 30 Days Without Visiting Border as Crisis Intensifies
Vice President Kamala Harris is facing scrutiny for not visiting the southern border as the number of migrants attempting to cross the border continues to intensify.
It has been 30 days since President Joe Biden announced he would be tasking Harris with leading the diplomatic efforts to stem the migration. At a White House immigration meeting on March 24, Biden said Harris would lead the administration's efforts with Mexico, El Salvador, Guatemala and Honduras to both curb the current flow of migrants and implement long-term strategies that would address the root causes of migration.
But Harris has yet to make a trip down to the border where Border Patrol facilities are being overwhelmed by an unprecedented number of unaccompanied children.
The White House has struggled to make clear which problems Harris would tackle and which are outside of her domain. White House Press Secretary Jen Psaki also shut down ideas that the vice president is in charge of the current migrant situation, saying she is only focused on the root causes—a distinction that has only furthered confusion over what the policy role entails.
The GOP, on the other hand, has declared Harris the nation's "border czar" and has criticized her for failing to visit the border in the month since Biden named her as the one in charge.
"Today would be a good day for Vice President Harris to visit the southern border," Republicans of the House Judiciary Committee tweeted from their official account Friday.
On Tuesday, ranking member of the House Judiciary GOP, Representative Jim Jordan of Ohio, also wrote on his own official account, "Vice President Kamala Harris visited North Carolina yesterday. She's set to visit New Hampshire on Friday. When's the 'border czar' going to visit the southern border?"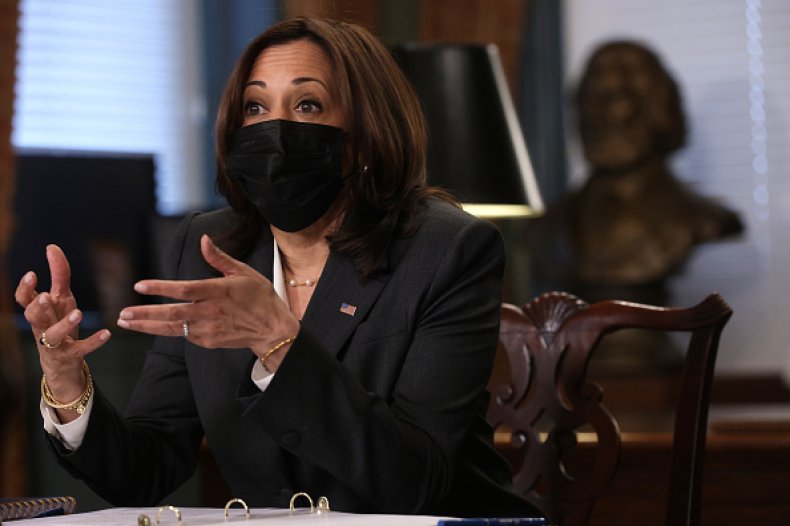 Since the announcement, White House aides have said the vice president has held calls with Guatemalan President Alejandro Giammattei and Mexican President Andrés Manuel López Obrador, and that she plans to visit the region soon, but did not specify if any preliminary plans have been scheduled.
"Day 24: still no border visit by Kamala Harris. This is no longer an act of incompetence, this is willfully executed," Republican Representative Andy Biggs, of Arizona, tweeted on April 17.
A few days before, on April 14, Republican Whip Steve Scalise of Louisiana brought a milk carton with Harris' picture to the Capitol. It read, "Missing at the border: Vice President Kamala Harris."
"If she's the vice president of the United States and the president put her in charge of this, Vice President Harris needs to go down to the border and see this for herself," he said at a news conference on immigration. "Because maybe she would then encourage President Biden to reverse his policies that have failed."
Republican National Committee Chair Ronna McDaniel also penned an op-ed earlier this month, titled "Where's Kamala? Biden's border point person can't be bothered to show up."
A White House official told CBS News that Harris' team is working on planning her first trip but added, "We are also being mindful that we just announced the American Jobs Plan and we're doing multiple things at one time."
Newsweek reached out to the White House for comment, but did not hear back before publication.