Kamala Harris Says Slavery Led to Untreated 'Physiological Outcomes,' Supports Reparations as Mental Health Issue
Senator Kamala Harris, a contender for the 2020 Democratic presidential nomination, said she believed reparations should be made to the African-American community, explaining that more needed to be done to address mental health.
Speaking to NPR, Harris said the black community had suffered undiagnosed mental trauma, the result of abuse handed down through the generations that began with slavery, and that this public health crisis should be redressed with reparations.
"The term 'reparations' means different things to different people. We need to study the effects of generations of discrimination and institutional racism and determine what have been…the consequences and what can be done in terms of intervention to correct course," Harris said.
"It is centuries of slavery—violence associated with slavery. There was never any real intervention to break up what had been generations of people experiencing the highest forms of trauma, and trauma undiagnosed and untreated leads to physiological outcomes."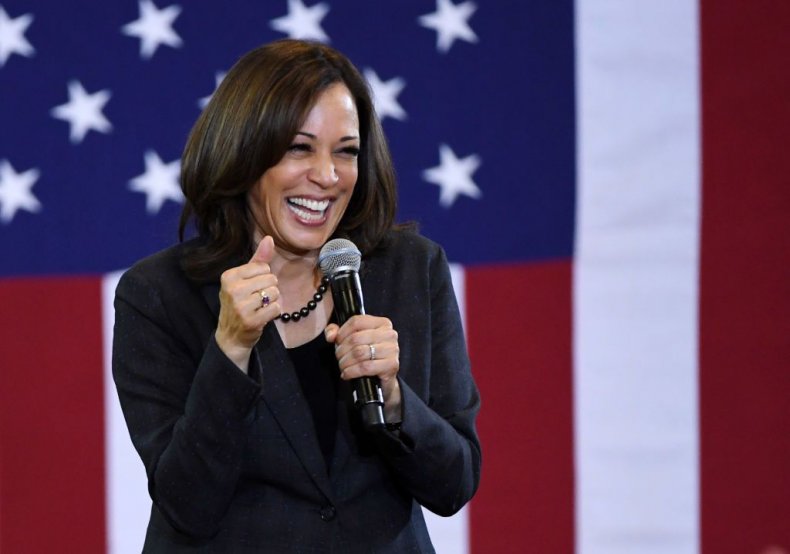 According to a February poll, Harris trails Democratic front-runners Joe Biden (who has yet to officially declare his candidacy) and Bernie Sanders, by 2 to 5 percent, according to a Monmouth University, New Jersey, and Emerson College, Iowa, survey.
Harris, 54, the daughter of Jamaican and Indian immigrants, has served in the Senate for two years. She was the first black and first woman to serve as California's attorney general and joins what is a large and diverse field for the Democratic presidential nomination, which includes a large number of nonwhite and female candidates.
This is not the first time Harris has addressed the issue of reparations. In a February interview with The Breakfast Club radio show, Harris said she supported government reparations, in some form, to the black community. The former attorney general also said the criminal justice system was inherently racist.
"There is systemic racism in the system," she said. "We have a problem with mass incarceration in particular of black and brown men."
Senator Elizabeth Warren of Massachusetts has also said she supported reparations for the black community, though she has not detailed what form those reparations would take.