Kamala Harris Spars With Amy Coney Barrett on Climate Change: 'You've Made Clear You Believe It's Debatable'
Senator Kamala Harris and President Donald Trump's Supreme Court nominee Judge Amy Coney Barrett tussled on climate change during Wednesday's Senate confirmation hearing.
Speaking via teleconference during the hearing, the Democratic senator and vice-presidential nominee asked Barrett whether she "accepts COVID-19 is infectious."
"I do accept that COVID-19 is infectious," the judge relied. "It's an obvious fact, yes."
Harris then asked Barrett whether she accepts that smoking causes cancer. "I'm not sure exactly where you're going with this," she responded. "Yes, every package of cigarettes warns that smoking causes cancer."
In her final question, Harris asked, "And do you believe that climate change is happening and is threatening the air we breathe and the water we drink?"
Barrett refused to answer. "You have asked me a series of questions that are completely uncontroversial, like whether COVID-19 is infectious, whether smoking causes cancer and then trying to analogize that to eliciting an opinion from me that is a very contentious matter of public debate," the judge said. "And I will not do that, I will not express a view on a matter of public policy especially when it's politically controversial cause that's inconsistent with the judicial role."
Harris replied, "Thank you Judge Barrett, you have made your point clear that you believe it is a debatable point."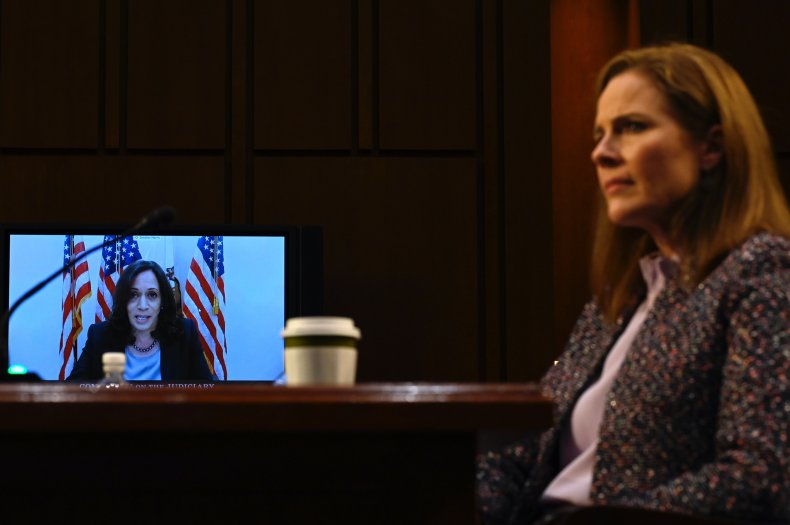 Trump formally nominated Barrett at a White House event in late September. The event was later suspected to have been the source of a COVID-19 outbreak in the White House and among Republicans in Congress.
Democrats oppose Barrett's nomination and have accused Republicans of hypocrisy for advancing Trump's Supreme Court nomination with weeks left until Election Day. The GOP refused to hold a hearing for former President Barack Obama's nominee Judge Merrick Garland in 2016 because it was in the same year as the presidential election.
At the time, Republicans vowed to apply the same rule for future nominations but have backtracked since the passing of Supreme Court Justice Ruth Bader Ginsburg on September 18.
GOP Senator John Kennedy mocked Harris' line of questioning on Wednesday by asking Barrett a series of obvious questions. "Let's try to answer some of Senator Harris' accusations," Kennedy said. "Are you a racist?" The Republican asked a few more, including "Do you support in all cases corporations over working people?" and "do you hate little warm puppies?"
Kennedy followed up by directly attacking Harris. "I'm not saying this is true, but there have been serious allegations made against Senator Harris, that as attorney general of the wonderful state of California, she participated in racial disparities in prosecution," he said.