Kamala Harris Swears in Jon Ossoff, Raphael Warnock in First Senate Session as Vice President
In her first major act as vice president, Kamala Harris ushered in several new senators in what will now be a Democratic-controlled chamber.
On Wednesday afternoon, just hours after her own historic inauguration, Harris administered the oath of office to Georgia Democrats Jon Ossoff and Raphael Warnock as well as her Senate successor Alex Padilla. The Senate chamber broke into applause as Harris arrived for her first session.
Ossoff, a 33-year-old Jewish filmmaker and investigative journalist, will be the youngest incoming Democratic senator since Biden was first elected to serve the chamber in 1973. Warnock, a pastor at the church once led by Martin Luther King Jr., is the first Black Democrat to win a Senate seat in the South since Reconstruction.
Padilla, who was chosen by California Governor Gavin Newsom to take over Harris' seat in the chamber, is the state's first Latino senator. Harris submitted a letter of resignation to Newsom on Monday, ending her four-year tenure in the chamber.
The addition of Ossoff and Warnock will give the legislative body a 50-50 split, but Democrats will make up the majority as Harris will be responsible for casting any tie-breaking votes. As president of the Senate, she can assist the Biden administration in confirming its Cabinet appointments and give Democrats control over key hearings and legislation.
In the new Congress, Chuck Schumer (D-N.Y.) will become the Senate's majority leader after four years of serving as the minority leader. His rapid-fire agenda for the chamber in the coming weeks includes confirming Biden's Cabinet nominees, passing more coronavirus aid, and moving forward with former President Donald Trump's impeachment.
Before being sworn into the Senate, Ossoff posted a photo of himself and Warnock at Biden's inauguration on Wednesday with the caption: "Change has come to Georgia. Change is coming to America."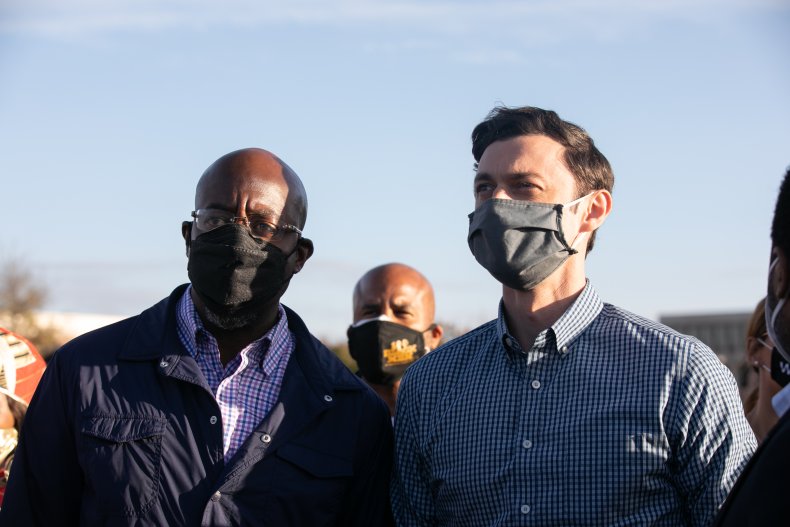 Warnock also posted a message ahead of Wednesday's session, writing: "My dad always told me to, 'get up, put your shoes on, get ready.' I'm ready to put the Senate back to work for the American people."
Their victories against Republican incumbents David Perdue and Kelly Loeffler cemented the "blue wave" in traditionally red Georgia, which also went for Biden in the November general election. The final results of the twin runoff elections were certified by Georgia Secretary of State Brad Raffensperger on Tuesday.
Following the Senate session, Harris will join Biden at a "Celebrating America" inaugural program where they are both expected to deliver remarks. In his inaugural address, Biden made a plea for unity to end the "uncivil war that pits red against blue, rural versus urban, conservative versus liberal."
"I will be a president for all Americans," Biden said. "I will fight as hard for those who did not support me as those who did."