Vice President Kamala Harris told a reporter on Friday that "it's not my first trip" to the U.S.-Mexico border ahead of her long-awaited visit.
After arriving in El Paso, Texas, Harris was asked by a reporter, "How did you decide that right now was the right time to make your first trip to the border?"
In response, Harris said, "Well, it's not my first trip. I've been to the border many times."
Harris continued, "So, the important aspect of this visit is leading this visit after the work that we did in Guatemala and Mexico. I said back in March I was gonna come to the border, so this is not a new plan, but the reality of it is that we have to deal with causes and we have to deal with the effects."
Harris went on to explain that her visit in Mexico and Guatemala was focused on dealing with the "causes" of migration into the U.S. and noted that her visit to the border in El Paso is about dealing with the "effects."
During an interview with NBC News, Harris' chief spokesperson Symone Sanders made similar comments and said that the vice president's trip to the border "is really about building on the work that she has been doing.…This is not happening in a vacuum and it is not just to go and see."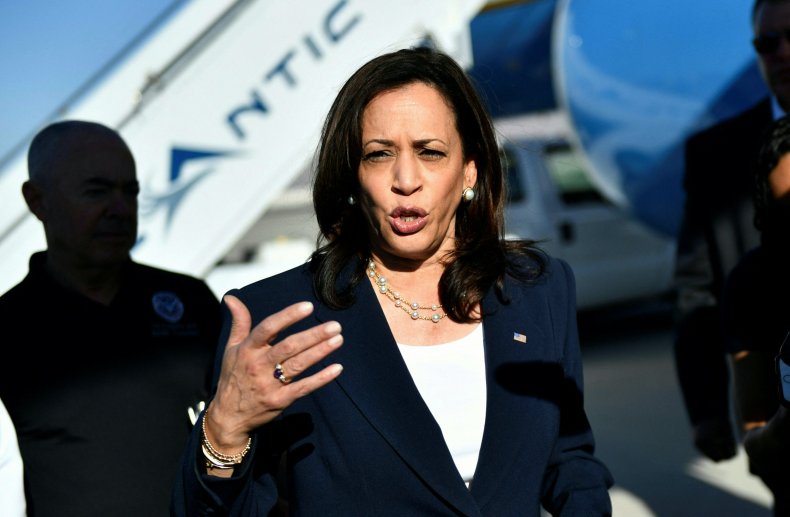 After arriving in El Paso, Harris also said, "I'm glad to be here. It was always the plan to come here, and I think we're gonna have a good productive day."
In March, President Joe Biden announced that he was appointing Harris to find solutions to the influx of migrants coming to the U.S. from Mexico Northern Triangle—El Salvador, Guatemala and Honduras. Biden said that these countries "need help stemming the movement of so many folks, stemming the migration to our southern border."
Prior to Harris' trip to the border on Friday, she has faced criticism from many Republicans for not traveling to the border sooner.
"The Vice President thinks the border crisis is a hilarious joke," House Minority Leader Kevin McCarthy previously tweeted.
Harris' trip to the border comes as the U.S. has faced a continued increase of migrants coming from Mexico. According to data from Customs and Border Protection, authorities encountered more than 180,000 migrants in May.
Republicans have also criticized the Biden administration's border security policies, citing the influx of migrants. Texas Governor Greg Abbott recently accused Harris of "ignoring the real problem areas along our southern border that are not protected by the border wall and are being overrun by the federal government's ill-thought-out open border policies."
Newsweek reached out to the White House for further comment.