Kamala Harris In Third Place As She Poses With Star Wars' Mark Hamill Before Jimmy Kimmel Live Appearance
California Sen. Kamala Harris posed with Star Wars star Mark Hamill ahead of their Tuesday night appearance on "Jimmy Kimmel Live," hours after a CNN poll named her third in line for the Democratic Presidential nomination.
"The force is strong tonight on @JimmyKimmelLive," the tweet read, featuring a photo of Harris and Hamill smiling for the camera and laughing.
Hamill tweeted about the "Jimmy Kimmell Live" appearance with a "heart-eyes" emoji next to Harris's name. However, Hamill has not formally endorsed any candidate in the 2020 presidential race.
Hamill, most famous for his role as Luke Skywalker, has openly criticized President Donald Trump, even saying on a December 2018 episode of the "Cape Up" podcast that he ranks classic villain Darth Vader above the president, "because Darth Vader repented."
According to the CNN poll, Harris's numbers increased from 4 percent support in December 2018 to 12 percent support in March 2019 among Democrats and Democratic-leaning independents. Harris is among four candidates with double-digit support numbers.
Former Vice President Joe Biden leads the pack at 28 percent support. Although Biden has not formally announced his intent to run, Wall Street Journal reported Tuesday that he said to "at least a half-dozen supporters" he planned to make his candidacy official once his fundraising numbers reached "several million."
Vermont Sen. Bernie Sanders, who finished as the Democratic runner-up in 2016, comes in second with 20 percent support. Former Texas congressman Beto O'Rourke—the latest entrant into the race—follows close behind Harris with 11 percent support.
The other nine candidates currently in the race have 6 percent or less support in the poll, as illustrated in the graphic below, provided by Statista.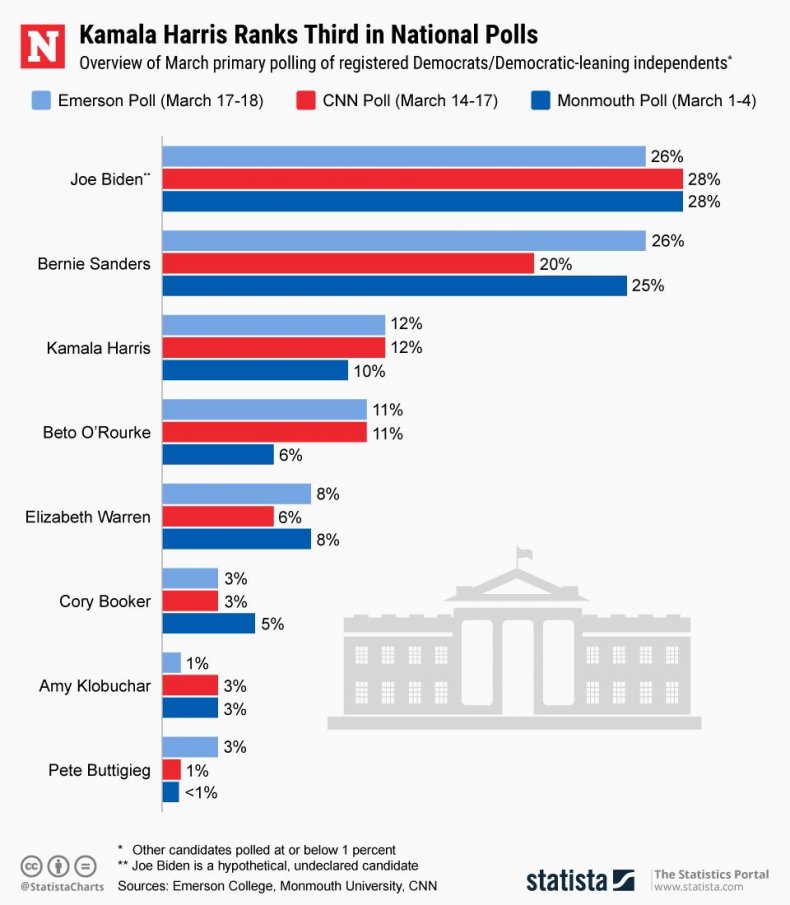 The poll also finds enthusiasm about voting next year surpasses every presidential contest since the turn of this century. Four in 10 voters say they are "extremely enthusiastic" about voting for president, far outpacing early reads in other recent presidential contests. According to CNN, the network first began asking this question in the 2004 election cycle, and the previous high point among registered voters was 37 percent just days before the 2008 election.
The poll might show current leaders, but the Democratic nomination is still up for grabs. Almost 60 percent of Democrats and Democratic-leaning independents see their field as wide open at this point. Just 37 percent say there are "one or two candidates they would prefer to see win the Democratic nomination," CNN reported.
On the other side of the aisle, the poll reported that nearly eight in 10 say the party has a better chance of winning with Trump at the helm than with someone else at the top of the ticket.
This article was updated to include an infographic.