Kamala Harris Threatened Nina Simone's Daughter With Jail Time, Granddaughter Says
The granddaughter of Nina Simone has said that Kamala Harris threatened her mother Lisa Simone Kelly with jail time in a dispute over the late singer's estate.
RéAnna Simone Kelly elaborated on claims that the vice president "took away" the legendary singer's estate to be "run by white people" when she was serving as California attorney general from 2011 to 2017.
She shared another lengthy thread explaining the situation after she tweeted on June 19 that Harris took away her family's rights to the Nina Simone estate and allegedly bullied her mother in court.
The family lost a legal battle helmed by Harris at the time with the singer's daughter, Lisa Simone Kelly, who was the administrator of both her late mother's estate and charitable trust.
In 2013, Lisa Simone Kelly was accused of "breaching her fiduciary duty" when she allegedly drained up to $2 million from the estate and trust, including a $1.5-million deposit into her personal company, The Daily Beast reports.
Citing court documents, the outlet reports that Harris sought to surcharge Lisa Simone Kelly nearly $6 million, as well as more than $2.5 million in interest, before the parties agreed for her to relinquish rights to her mother's work as well as the title of estate administrator.
The court then appointed the Los Angeles-based San Pasqual Fiduciary Trust Company as special administrator of the estate, per The Daily Beast.
"There are a lot of assumptions and misinformation flying around at the moment. So let me shed some light on this situation for you. These are the facts concerning my mother, Kamala Harris, and the Nina Simone estate," wrote RéAnna Simone Kelly, daughter of Lisa Simone Kelly.
She went on to explain that the Nina Simone estate is a French estate and that the family was told by U.S. judges to go and claim heirship in France.
Nina Simone passed away in 2003.
"While we were in France setting up and renovating Grandma's house in Carry Le Rouet, we were told that Kamala Harris was coming after us.. for no good reason," RéAnna Simone Kelly explained.
"She and her office put out stories about funds being misappropriated which of course, turned out to be totally false as the money she was talking about was used to pay attorneys, accountants and to protect and run the estate.
"Kamala was told after many months in court that there weren't any crimes committed & that she was going to lose the case. The law firm that we initially sued for wrongfully filing the estate in the US probate system, in the end, wound up settling with us for a few million dollars."
Kelly added that Harris "had no jurisdiction over the estate because it is not an American estate. It is a French estate and should have been filed in France."
Nina Simone was a resident of France, who lived and died in France, thereby "her estate was French," she explained.
"On top of that fact, the law firm that we originally sued (before they threatened us with Kamala Harris & brought her in to sue us) misrepresented us as they knew the estate was a French Estate.
"They (meaning the law firm we originally sued) still went ahead & filed for probate in America which started 15 years of legal battles for us."
Furthermore, Kelly claims that Harris joined the law firm's defense and attack against the family and "threatened my mother Lisa Simone with jail time before the case was underway if my mom didn't resign as the Administrator and Trustee of the estate."
She continued: "In the revoked will Kamala was using (which is a whole other story onto itself) my mom was protected in every way from litigation especially if she used attorneys & accountants to help her run the estate, which she did. Mom being forced to resign would strip her of her protection.
"The only way Kamala could try to prosecute my mother was if my mom was not protected, which is why Kamala tried to force my mother to resign as the administrator and executive of the estate."
Kelly urged that her mother did not resign "because of any wrong doing on her part" and said she resigned "because she was bullied and intimidated by Kamala Harris, who was the attorney general of California at the time, into resigning."
She added: "My mother DID NOT embezzle money from the estate, including the charitable portion."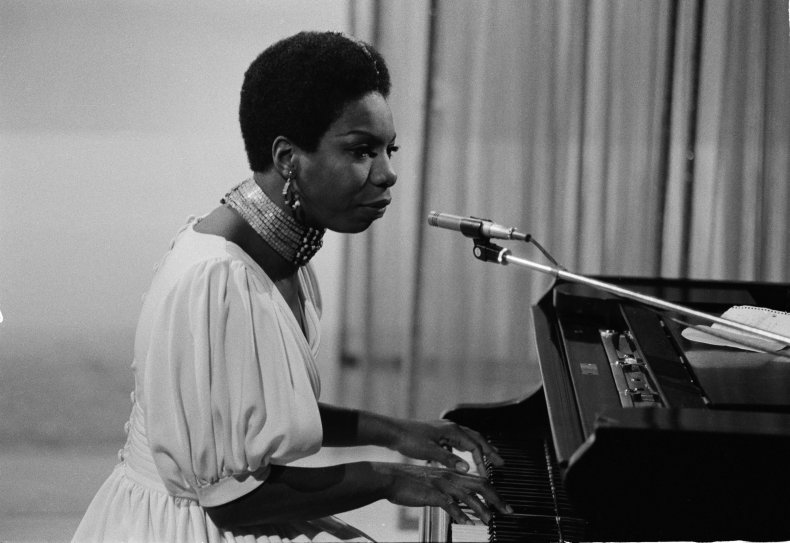 Kelly concluded her thread by saying that her mother was wrongfully accused of stealing from the charitable portion of the estate.
"The charity that my mother was wrongfully accused of stealing from could not be formed until after probate was closed, which it wasn't. That is the reason the American judges ruled that we should go to France to file for my mother's inheritance as they deemed it a French estate," she said.
"Kamala was wrong to assume that the charitable portion of the estate already existed and that is why she came after us."
Newsweek has contacted Kamala Harris' office for comment.