Who Is Tina Flournoy? Kamala Harris' Chief of Staff Accused of Blocking Access to Allies
Long-time political and business allies of Kamala Harris have complained their access to the vice president is being blocked by her chief of staff, Tina Flournoy, it has been reported.
CNBC reported that under the watch of Flournoy, Harris has not returned phone calls to donors, those who backed her Senate and White House runs and who considered themselves as part of her inner circle. But some have praised Flournoy for simply doing her job
CNBC said that Harris allies who had regular contact with the former California senator in the past are resorting to other routes to get in touch with her, including via the vice president's husband, Douglas Emhoff.
Citing anonymous sources, the news outlet said that those wanting to speak to Harris about policy matters are directed by Flournoy to the vice president's policy advisers.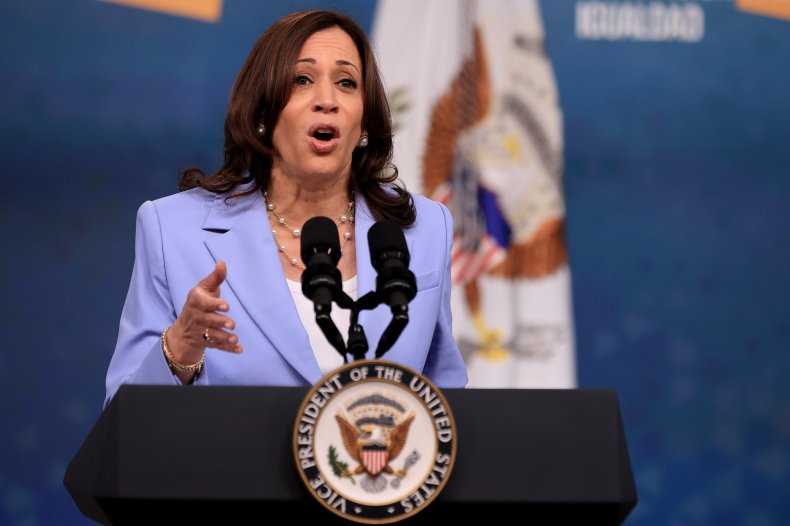 The outlet said one key Democratic donor who raised funds for her failed presidential bid was unable to contact the vice president and therefore tried via Flournoy, which didn't work.
Another Harris backer had not heard from the vice president since she held a call with supporters during the transition period.
CNBC also reported that one person close to Harris had accepted the fact that it would be more difficult to reach her now that she was vice president and praised Flournoy.
Flournoy, 65, is a veteran Democratic strategist. She graduated from Georgetown University in 1978 and worked as a law clerk for Julia Cooper Mack, a judge on the D.C. Court of Appeals, before entering politics.
She was chief of staff for former President Bill Clinton from 2013 and served in top posts in the Democratic National Committee and the American Federation of Teachers.
She also worked on the presidential campaigns of former Vice President Al Gore and former Secretary of State Hillary Clinton, The Associated Press reported. She was named Harris' chief of staff in December 2020.
Chiefs of staff act as gatekeepers who decide who gets access to their bosses.
Fournoy has to manage Harris' swelling in-tray as the vice president works on big-ticket initiatives such as the administration's COVID relief bill, voting rights, immigration and criminal justice reform.
And the way she has been carrying out her role has been praised on social media.
Stephanie Cutter, the former deputy campaign manager for Barack Obama 2012, responded to the CNBC report, tweeting: "Newsflash: Tina Flournoy is doing her job. Ask any former COS for a president or vice president—limiting outside access is critical, particularly in the first year.
"Let's pls stop holding @VP to a different standard than, well, everyone else that's come before her," she added.
Jennifer Palmieri, the former White House director of communications between 2013 to 2015 tweeted: "Hm. Sounds like what's happening here is that Tina Flournoy is doing her job. Chiefs of staff gotta run interference.
"Doesn't always make you popular. But it's part of the job. Protect the boss' time." she added.
Democratic strategist Adrienne Elrod tweeted: "So let me get this straight. Tina Flournoy is doing a good job DOING HER JOB by running a tight ship for @VP. That is worthy of praise."
Newsweek has contacted the White House for comment.