Kamala Harris Top Choice For Vice President—Unless There's 'Someone Else,' Poll Finds
A new national poll saw California Senator Kamala Harris named as the top choice for vice president in the 2020 election race—unless there's "someone else."
Conducted by Emerson College Polling, the survey saw Harris come away with 20 percent of the vote for "best pick for Vice President" out of the named potential candidates. However, 23 percent went to another possibility: "someone else."
After Harris, who bowed out of the Democratic presidential race not long ago, it was entrepreneur Andrew Yang, who only recently gave up his presidential bid, who came in second at a close 18 percent in the poll, which saw 573 people Democratic primary voters surveyed between February 16 and 18.
Former Secretary of State and 2016 presidential candidate Hillary Clinton, meanwhile, came up as a third possibility, with 16 percent of support. Stacey Abrams was selected by 8 percent of participants, while former Rep. Beto O'Rouke received 6 percent of support, Ohio Sen. Sherrod Brown 5 percent and Andrew Gillum 3 percent. Rep Ilhan Omar was the top choice among 1 percent of respondents.
Support for Harris as a potential candidate for vice president comes in the wake of a late January report from The New York Times that the California senator was considering throwing her weight behind former Vice President Joe Biden.
Such a move, The Times noted, could breathe fresh life in Biden's campaign. However, it could also leave more liberal-leaning Democrats disappointed that she didn't go for a more ostensibly progressive candidate, like Vermont Sen. Bernie Sanders or Massachusetts Sen. Elizabeth Warren.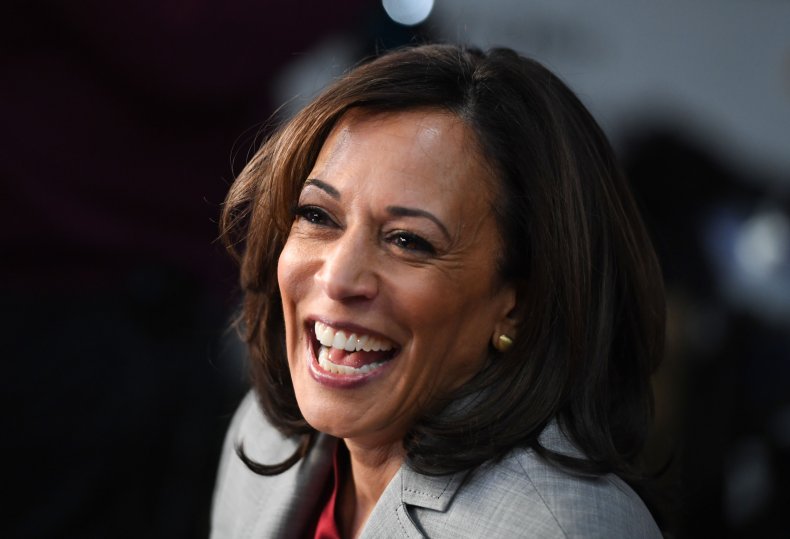 In line with a number of national polls that have come out in recent days, the Emerson College National Poll found Sanders to be the top choice among Democratic presidential candidates.
With 29 percent of support, Sanders maintained a strong lead over Biden, who enjoyed 22 percent of support, while former New York City Mayor Michael Bloomberg saw 14 percent and Warren 12 percent.
Meanwhile, former South Bend, Indiana Mayor Pete Buttigieg came away with 8 percent, as Minnesota Sen. Amy Klobuchar saw 6 percent, Hawaii Rep. Tulsi Gabbard 4 percent and philanthropist Tom Steyer 3 percent.
Given the option to pick "someone else" for president, only 4 percent of Democratic primary voters went for that possibility.
"Sanders continues to build upon his base and has solidified his position as the frontrunner," said Spencer Kimball, Director of Emerson College Polling. Meanwhile, "Biden has lost support, especially among African-Americans, which now opens the door for Bloomberg, maybe Buttigieg or even Klobuchar to win over the moderate voter and become the alternative to Sanders going into Super Tuesday."
Since the last national poll conducted by the college in January, Sanders, Buttigieg and Klobuchar had all gained two points, while Biden has fallen by eight points. Bloomberg, meanwhile, moved up seven points, while Warren lost one point.
Newsweek has contacted Harris' office for comment.