Vice President Kamala Harris' Friday appearance on The View was abruptly changed after two hosts tested positive for COVID-19 and were pulled from the set mid-show. The episode was Harris' first talk show appearance since she became vice president.
Co-hosts Sunny Hostin and Ana Navarro tested positive for the coronavirus despite both being fully vaccinated. The show's two other hosts, Sara Haines and Joy Behar, tested negative.
Rather than joining Behar and Haines on set at the table earlier occupied by the infected co-hosts, the vice president's segment was delayed, and she later appeared for her interview virtually.
Twenty minutes into the show, Behar tried to kill time by taking random questions from the audience, shortly before it was decided that Harris would join them remotely despite being in the studio.
"In the meantime, while Sarah and I do a little tap dancing, we're taking questions from the audience which we never do, but it's better than just hearing us talk to each other, I think," Behar said.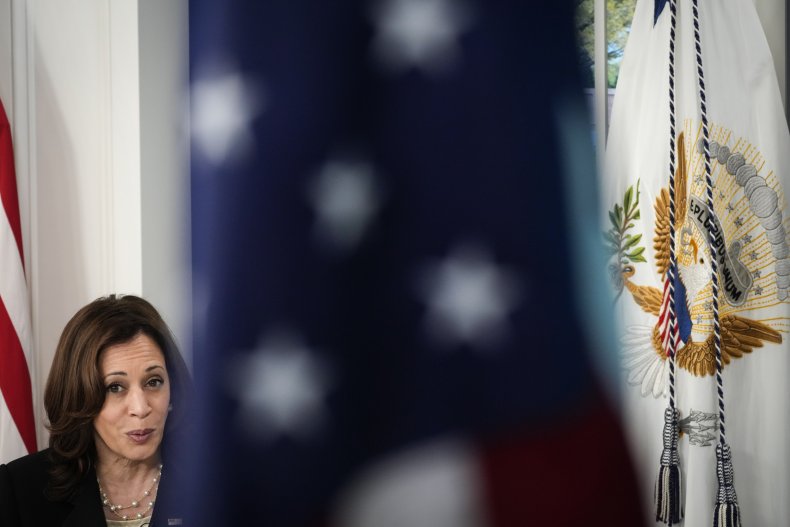 During her eventual segment, Harris discussed COVID-19 vaccine hesitancy and misinformation. She also addressed the treatment of Haitian migrants at the southern border, the U.S. withdrawal from Afghanistan, and the Texas abortion ban.
Harris said during her appearance that the Biden administration had granted and extended Temporary Protected Status (TPS) to thousands of Haitian migrants.
"They [Haitians] need protection including reunification with those who have family members in the United States who are American citizens," she said.
"We have to do more in terms of supporting the Haitians who are returning to Haiti, we've got to do more without any question to support Haiti to recover," she added, referring to the earthquake that devastated the nation in August, and a government that is in "disarray."
When asked to comment about the U.S. withdrawal from Afghanistan, including remarks about the full withdrawal potentially posing a threat to America, Harris said: "The United States has an obligation and we as leaders have an obligation to appreciate that we are a global leader, we have interests around the world, and we have to stay focused on those interests wherever they take place."
Earlier this week, Harris called the images circulating online showing horse-riding Border Patrol agents chasing after Haitian migrants along the Rio Grande river "horrible."
The agents used long reins as they attempted to block the migrants from their encampment under the Del Rio International Bridge in Texas, sparking nationwide outrage. Harris joined calls for the Department of Homeland Security (DHS) to investigate the matter.
"What I saw depicted about those individuals on horseback treating human beings the way they were, was horrible," Harris told reporters on September 21. "And I fully support what is happening right now, which is a thorough investigation into exactly what is going on there."
"But human beings should never be treated that way. And I'm deeply troubled about it," she added.