Kamala Harris Voices Support for Peaceful Protests, Says We Can't Let 'Vigilantes and Extremists' Derail Mission
In her first solo event as the Democratic vice presidential nominee, Senator Kamala Harris voiced support for protesters of police brutality but condemned violent "vigilantes and extremists" for taking away from the group's mission.
"After the murders of Breonna and George and Ahmaud and so many others, it's no wonder people have taken to the streets. And I support them," Harris said, referencing the police killings of Breonna Taylor, George Floyd and Ahmaud Abery.
"We must always defend peaceful protest and peaceful protesters. We should not confuse them with those looting and committing acts of violence, including the shooter who was arrested for murder. Make no mistake, we will not let these vigilantes and extremists derail the path to justice," she added.
Harris began her remarks by addressing the shooting of Jacob Blake, an unarmed Black man shot by a white office in Kenosha, Wisconsin. A video of the shooting emerged Sunday showing the officer shooting Blake in the back several times as he tried to open his car door. Authorities have released little information about the Blake shooting, but say there was a knife retrieved from his car.
"As Vice President Biden put it, the shots fired at Mr. Blake pierced the soul of our nation. It's sickening to watch. It's all too familiar. And it must end," Harris said, noting that both her and Joe Biden have spoken to Blake's family. "Thankfully, he is alive today. But he is fighting for his life, and he shouldn't have to be."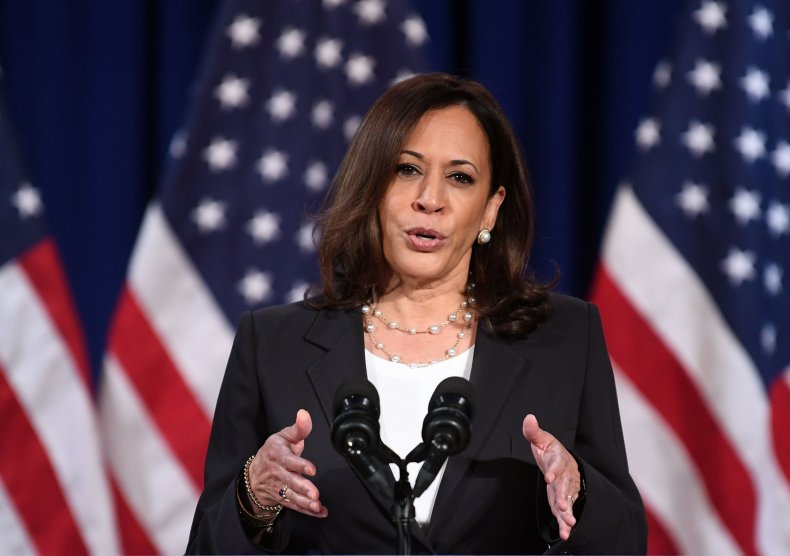 Demonstrations over the shooting started on Sunday night but soon turned destructive as rioters and looters began vandalizing and burning buildings. The violence culminated on Tuesday evening when two people were fatally shot. Police have arrested a 17-year-old in connection with the shooting and charged him with homicide.
In response, President Donald Trump and Democratic Governor Tony Evers agreed to send in members of the National Guard. Kenosha officials said during a press conference on Thursday they've requested even more troops from neighboring states.
Harris delivered her speech hours before Trump is set to accept the Republican Party's nomination live from the White House. In her remarks on Thursday, Harris said the GOP convention is serving one purpose: "to soothe Donald Trump's ego."
The president has made "law and order" a central theme of his reelection convention. The event's first night featured the St. Louis couple Mark and Patricia McCloskey, who went viral after brandishing guns at Black Lives Matter protesters who were marching outside their mansion.
On Wednesday, Vice President Mike Pence pledged to restore order in his keynote address.
"The violence must stop, whether in Minneapolis, Portland or Kenosha," he said. "We will have law and order on the streets of this country for every American of every race and creed and color."