Kamala Harris Says Stacey Abrams, Andrew Gillum Would Have Won 2018 Elections Without Voter Suppression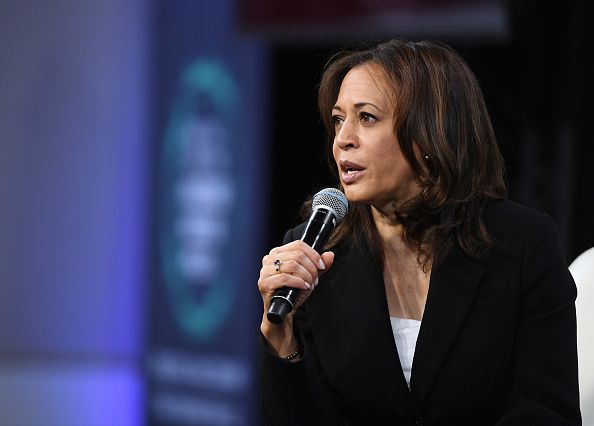 Presidential candidate Kamala Harris cited voter suppression as the reason fellow Democrats Stacey Abrams and Andrew Gillum lost their high-profile gubernatorial races during the 2018 midterm elections.
"Let's say this loud and clear: Without voter suppression, Stacey Abrams would be the governor of Georgia; Andrew Gillum is the governor of Florida," the 2020 hopeful said during her keynote speech at the NAACP Freedom Fund dinner on Sunday.
"So the truth is, we need a new voting rights act," Harris continued. Her proposal consisted of automatically registering people to vote and curbing any efforts to suppress the vote. Election Day would also be designated a national holiday.
Abrams and Gillum both narrowly lost their gubernatorial bids during last year's midterm election cycle amid allegations of voter suppression in Georgia and Florida.
Abrams made history during her run for governor of Georgia, becoming the first black woman to be nominated by a major party for the position. Her face-off against Republican Brian Kemp became one of the most closely watched races of the election cycle, and her campaign attracted the support of top Democrats, including former President Barack Obama and former Vice President Joe Biden.
The Georgia Democrat lost to Kemp by fewer than 60,000 votes. Abrams initially refused to concede amid allegations of widespread voter suppression. When she did formally exit the race, more than a week after Election Day, she slammed Kemp and the state for "gross mismanagement" of the election and filed a federal lawsuit against the state of Georgia.
Fellow Democratic 2020 presidential candidate Beto O'Rourke said that if he were elected he would put Abrams in charge of fighting against voter suppression. O'Rourke added that he and Abrams "talked about how in our states of the former Confederacy, really ever since the end of reconstruction, we have drawn people out of their ability to participate in this Democracy."
Gillum originally ended his bid to become the first black governor of Florida on Election Day, conceding to Republican Ron DeSantis. But when DeSantis' lead was cut to less than half a percentage point, Gillum withdrew his concession and called for the state to recount all the votes. After a machine recount, Gillum remained roughly 34,000 votes behind.
Throughout the election there were several reports that some Florida voters were turned away from polling stations due to discrepancies with the signatures on their identification cards.
Since losing the race for governor, Gillum has launched a voter mobilization campaign to help register at least a million Florida voters before the 2020 election.
"We will do the work that is necessary to help get these folks registered, but it will still be up to a good candidate to talk about the issues that are going to animate those voters to get to the polls," Gillum said during his voter registration mission in March. "We want a winning showing come November."
In her keynote speech, Harris also accused President Donald Trump of attacking communities of color and empowering racism, anti-Semitism and Islamophobia.
Trump has repeatedly denied the reports of voter suppression and accused Democrats, without evidence, of "election theft." He once claimed that people committed voter fraud by casting their ballots, returning to their cars to put on a disguise and then going back to a polling station to vote again.
"Let's speak truth here today—this president isn't trying to make American great, he's trying to make America hate," Harris said. "So it is critical to our security, our dignity and our unity as a nation when I say: We need a new president."