Kamala Harris, VP Who Made Her Own History, Praises Jackson as a 'Hero'
Vice President Kamala Harris is hailing Ketanji Brown Jackson as a "hero," following her historic confirmation as the first Black woman to serve on the nation's highest court.
Harris, who made multiple firsts as vice president, praised Jackson on Twitter following the Senate's 53-47 vote to confirm her nomination to the Supreme Court. While the confirmation vote was closer than previous votes, the vice president is among those celebrating Jackson's ascendance to a court that's been overwhelmingly white and male.
"Judge Ketanji Brown Jackson made history today," wrote Harris on Twitter, showing a picture of the exuberant vice president embracing Jackson. "Judge Jackson is a hero to so many Americans across our country."
Harris became the first woman, first Black person and first person of South Asian descent to serve as vice president following her election in 2020. (The first U.S. vice president of color was Charles Curtis, a Native American who served under President Herbert Hoover.)
Of the 115 people confirmed as Supreme Court justices, 108 have been white men. The court has seen two Black men, Thurgood Marshall (who retired in 1991) and current Justice Clarence Thomas. Sonia Sotomayor is the only Hispanic person confirmed to the court. Jackson will be the sixth woman to serve on the high court, joining three other female justices.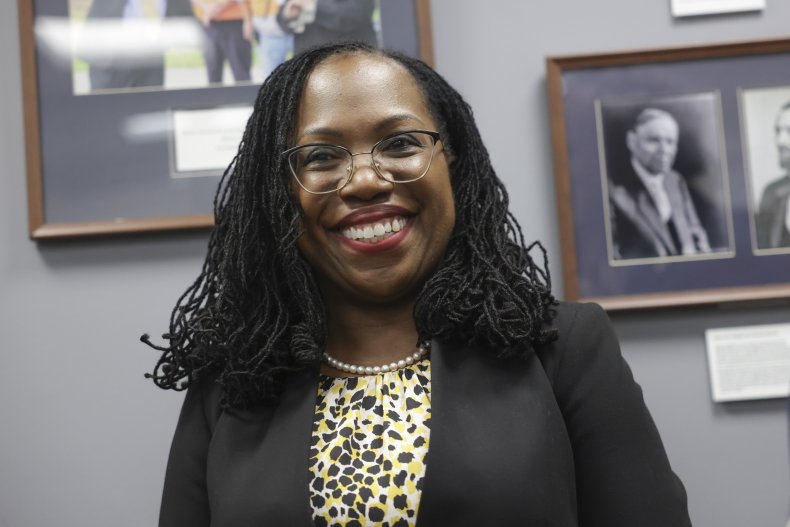 Jackson's confirmation fulfills President Joe Biden's campaign pledge to appoint a Black woman to the Supreme Court and is a big win after his agenda has largely stalled. Biden tweeted a picture of himself smiling with Jackson as the Senate held its confirmation vote.
"Judge Jackson's confirmation was a historic moment for our nation," Biden said on Twitter. "We've taken another step toward making our highest court reflect the diversity of America. She will be an incredible Justice, and I was honored to share this moment with her."
New Jersey Senator Cory Booker, one of three Black members of the chamber, tweeted an emotional video following the vote, thanking Jackson for "overcoming all of life's obstacles" and saying that "we as a nation rise with her."
"I think there are a lot of people who can appreciate this: that there is a lot of hurt in this world, there is a lot of private pain and personal injury, and we live in a nation with acres of ground that's been watered with tears and sadness," he said. "But today is a mountain of joy. Today is a day of celebration."
Georgia Senator Raphael Warnock, another Black member of the chamber, tweeted a letter he wrote to his daughter Chloé while Jackson's confirmation vote was underway.
"In our nation's history, she is the first Supreme Court Justice who looks like you—with hair like yours," Warnock wrote.
He also wrote that Harris handed him a piece of paper while the vote was underway and suggested he write a note to someone who comes to mind.
"By the way, she is the first Vice President who also looks like you!" wrote Warnock.