Kamala Harris Was More Truthful than Mike Pence In Debate, Newsweek Reader Poll Shows
Newsweek's readers overwhelmingly believe that Senator Kamala Harris was more truthful than Vice President Mike Pence during the vice presidential debate in Salt Lake City, Utah on Wednesday night, according to a new survey.
In a Newsweek poll, conducted on our website during and after the debate, 60 percent of respondents backed Harris as the most truthful candidate on the stage, compared to Pence's 31 percent.
Three percent said they weren't sure who was more truthful and 6 percent said neither.
With the coronavirus issue opening their 90-minute debate, Harris called President Donald Trump's handling of the pandemic the "greatest failure of any presidential administration in the history of our country." Pence, leader of the Trump administration's coronavirus response team, quickly unleashed a number of misleading rebuttals.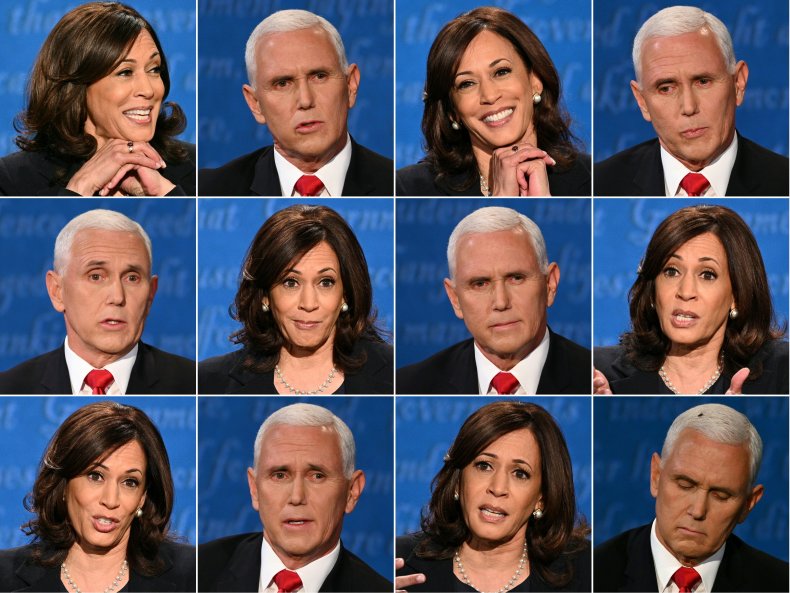 He exaggerated Trump's early travel ban on China, saying the president "suspended all travel" from the country. As Secretary of Health and Human Services Alex Azar explained in January, the president's policy prohibited non-U.S. citizens who have entered China within the past two weeks from entry into America. Family of citizens and permanent residents were exempt.
Pence called Judge Amy Coney Barrett's official nomination at the White House on September 26 "an outdoor event which all of our scientists regularly, routinely advise." While the ceremony, where Trump formally announced Barrett, was held in the Rose Garden, photos have recently surfaced showing maskless attendees mingling indoors, flouting social distancing. The event is believed to have produced a number of coronavirus infections in the White House and Capitol Hill.
The vice president also said that Biden "opposed the raid against Obama bin Laden." Biden was more hesitant than other members of Obama's administration over the operation to kill bin Laden, but outright saying he opposed it is a misleading claim. Pence had issued the same statement earlier this year at the Republican National Convention.
Harris was no saint either. Her claim that the U.S. is currently "in a manufacturing recession" because of Trump's trade war with China was exaggerated. While the trade war caused factory output to slow in 2019, it further plummeted this year due to the pandemic and has been recovering over the past five months.
Harris also said "on day 1, Joe Biden will repeal that tax bill." According to Biden's campaign plan, the Democrat intends to repeal parts of Trump's 2017 tax cut bill. However, the House and Senate will still need to draft and vote on legislation to execute the promise.
Newsweek's poll, which was conducted on our live blog of the debate, drew 290 readers who participated.
Newsweek reached out to Biden and Trump's campaigns for comment.