Russian figure skater Kamila Valieva failed to win gold Thursday in the women's individual event at the Beijing Winter Olympics, with fellow Russian Olympic Committee (ROC) skater Anna Shcherbakova taking the top spot instead.
Alexandra Trusova, another member of the ROC, took silver in the competition, while Japan's Kaori Sakamoto took bronze. Trusova broke down in tears and appeared to be stunned at the outcome of the competition. After erupting in tears upon hearing the results, Trusova initially refused to go onto the podium, NBC reported.
Valieva, who is 15 and came in fourth, had been widely favored to win the individual event after she earned the top score in the short program on Tuesday. In addition, she helped lead the ROC figure skating team to gold earlier in the games. Her performance was also widely anticipated after she was cleared to compete in the individual event despite testing positive this past December for a banned heart medication. The sample's results didn't come back until the Olympics had already been underway for days.
The young skater, whose name has become synonymous with what is likely to be the most prominent doping scandal of the 2022 Beijing games, had a shaky performance during Thursday's long program. She fell twice, stumbled and slipped, earning a score of 141.93 in the free skate, which was added to her short program score of 82.16 for a final tally of 224.09.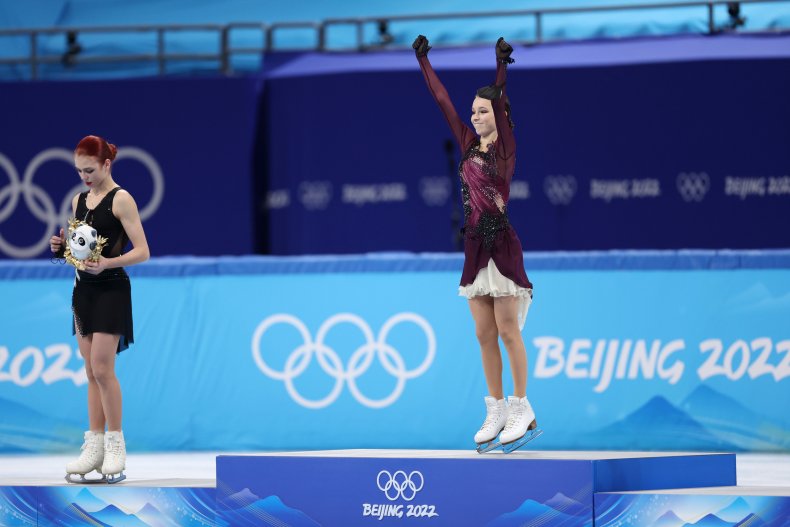 The scores from the short program and the long program (also called the free skate) were added together for the final tallies that decided who won the medals.
Shcherbakova earned the second-highest free skate score, 175.75, and an overall point tally of 255.95 when combined with her short program score of 80.20.
Trusova scored highest in the free skate, with 177.13 points, but it wasn't enough to propel her into first place after scoring 74.60 in the short program. Her final score tally was 251.73.
Sakamoto ended the women's individual event with a total of 233.13 points after scoring 79.84 in the short program and 153.29 in the long program.
Shcherbakova, Trusova and Sakamoto were all honored in a ceremony after the competition. Their medals will not be presented until Friday, a ceremony that would not have occurred if Valieva had earned any of the top three medals because of an International Olympic Committee decision after she was cleared to compete.
In addition to Trusova, all of the other skaters in the top four spots seemed to be emotional and shocked as the final scores came in after the free skate. Valieva began sobbing after her scores were read, and she later walked through a room of journalists in silence with her face hidden behind a mask, the New York Times reported.
Trusova did speak to reporters but spoke softly in Russian and appeared to look upset and shaken, with her eyes wet.
Shcherbakova looked happy on the podium and raised her arms in triumph, but the gold medalist also seemed to need more time to process her taking first in an event that has been surrounded by so much controversy.
"After my performance, I felt like I did my maximum at the right time, the right place," she said, according to the Times. "I think I need some time to understand what happened."
Shcherbakova said her feelings are mixed about the results, noting that she sympathizes with Valieva.
"I was feeling a lot of pleasure because I happened to be in the right time and the right place and did the right things—that's the important thing," she said. "On the other hand, I feel this emptiness inside."
For Sakamoto, the emotions appeared to fall on the positive side. She was in tears, presumably in happiness, after hearing her scores. She later told reporters at a post-competition news conference that "I am simply quite happy for now."
Update 2/17/22, 10:50 a.m. ET: This story has been updated with additional information and background.
About the writer
Zoe Strozewski is a Newsweek reporter based in New Jersey. Her focus is reporting on U.S. and global politics. Zoe joined Newsweek in 2021. She is a graduate of Kean University. You can get in touch with Zoe by emailing z.strozewski@newsweek.com. Languages: English.