Kamille McKinney Amber Alert: Three-year-old Kidnapped During Alabama Birthday Party
Authorities in Alabama are looking for a three-year-old girl feared to be in "extreme danger" after she was taken from a birthday party over the weekend.
Witnesses told the Alabama Law Enforcement Agency a male and female arrived at a birthday party in Birmingham in a dark SUV and took Kamille McKinney.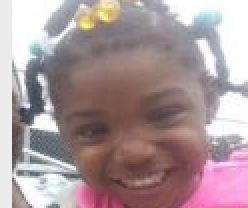 A missing person photo released by the State of Alabama shows 3-year-old

Kamille

"Cupcake" McKinney.
State of Alabama
The child, nicknamed "Cupcake," was last seen at around 8:30 p.m. on Saturday, at Tom Brown Village housing community, according to a statement from the Birmingham Police Department and the Alabama Law Enforcement Agency, shared by the National Center for Missing and Exploited Children.
The identities of the suspects were not clear and no further details were given. They are thought to have been traveling in black or blue older model Toyota 4 Runner. The vehicle had rims, and a protruding tan bumper.
Officials described the missing girl as a black female, standing at 3-ft-tall, and weighing 60lbs. McKinney has brown eyes and black hair. She was last seen wearing a pink T-shirt featuring a Minnie Mouse leopard-print design and leopard-print shorts. Her hair was tied with blue, yellow and white bows.
McKinney is likely barefoot as her shoes were later discovered in a parking lot, police told AL.com. Her parents, extended family and her friends were at the scene, they said, and her disappearance is not thought to be linked to custodial issues.
The girl is "believed to be in extreme danger," authorities warned.
As officials attempt to find the missing girl, dozens of people on social media shared a missing person poster released by the Alabama Law Enforcement Agency featuring a photo of her.
Officials urged those with information to contact Birmingham Police Department on 205-254-0841. Information can be provided anonymously to Crime Stoppers at 205-254-7777.
The State of Alabama issued a Child Abduction Emergency Amber Alert following her disappearance.
Amber Alert is an acronym for America's Missing: Broadcast Emergency Response. It was named after murder victim Amber Hagerman, who in 1996 was kidnapped while riding her bike in Arlington, Texas. Outraged locals called on Dallas radio stations to issue missing person alerts in the future, in order to prevent such a tragedy from being repeated, according to the Missouri State Highway Patrol.
Between 1996 and 2001, four states adopted the system. In 2003, President George W. Bush signed the Protect Act into law, which codified the existing role of the Department of Justice National Amber Alert Coordinator.