Kangaroo Culling Could Continue Despite One Billion Animals Estimated to Have Perished in Australia Wildfires
The Australian Capital Territory (ACT) could still push ahead with kangaroo culling in 2020, even though one billion animals have died in the Australia Wildfires this season.
According to the Environment, Planning and Sustainable Development Directorate for the enclave, the 2019 conservation cull resulted in 4,035 kangaroos being killed in many of the state's reserves. The culls are done as a method to help preserve grassland that other creatures such as lizards and bettongs, with the numbers calculated by kangaroo counts and vegetation analysis across the reserves. Under the National Code of Practice for the Humane Shooting of Kangaroos and Wallabies, kangaroos can only be shot in the head, although heart shots are allowed for killing animals which are then wounded and only professionals are audited.
Australia also uses kangaroos for their meat and hides, also known as kangaroo harvesting. Landlords of farms in New South Wales can also get licenses to shoot kangaroos that come onto their land.
However, whether the cull will be required in 2020 remains to be seen as it's predicted that over 800 million animals have died in New South Wales alone, according to the University of Sydney. The update by Professor Chris Dickman covers animals that have likely been killed directly by the fires or succumbing later due to "depletion of food and shelter resources and predation from introduced feral cats and red foxes". In New South Wales, the South Coast and Kosciuszko national parks have been closed due to wildfires with a leave alert placed on them.
Professor Dickman cautions that the "true loss" of animal life is likely to be much higher, with New South Wales's wildlife under increasing pressure from a range of threats, including land clearing, exotic pests and climate change. According to the update, 34 species and subspecies of native mammals have become extinct in Australia over the last 200 years, the highest rate of loss for any region in the world.
Warning: The image below might be distressing.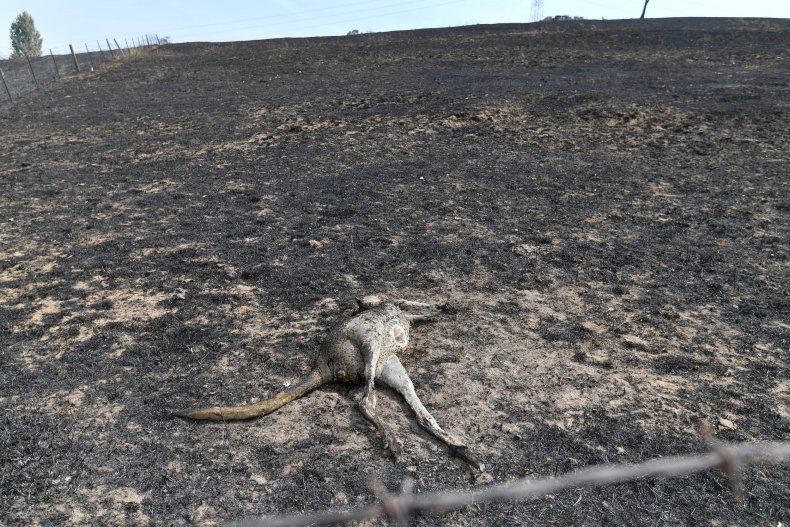 Other states such as Victoria and Queensland have halted culls due to wildfires and drought. According to ABC News, the Queensland Department of Environment and Science (DES) announced in November 2019 that it would stop the harvesting of eastern grey kangaroos due to the populations falling below the "trigger point" of 983,316.
Culling kangaroos in Australia has been a controversial topic with some believing the act to be "cruel." The Anti-Speciesist Action Collective, based in the country's capital Canberra, believes that standard practices of the cull are inhumane and cruel. "Kangaroos, who form close family groups, are fenced into small areas as shooters with unlicensed silencers take aim after dark," it says on the website. "Many kangaroos are not killed by the 'single shot to head' detailed in the plan—Federal Code—but from body shots that result in slow agonizing deaths.
"Pouch young and at foot joeys are hit against solid objects or decapitated, and older joeys that manage to escape are left to starve without their mothers to protect them," the website explains. However, according to Improving the humaneness of commercial kangaroo harvesting, other methods such as the use of a captive bolt device are advised.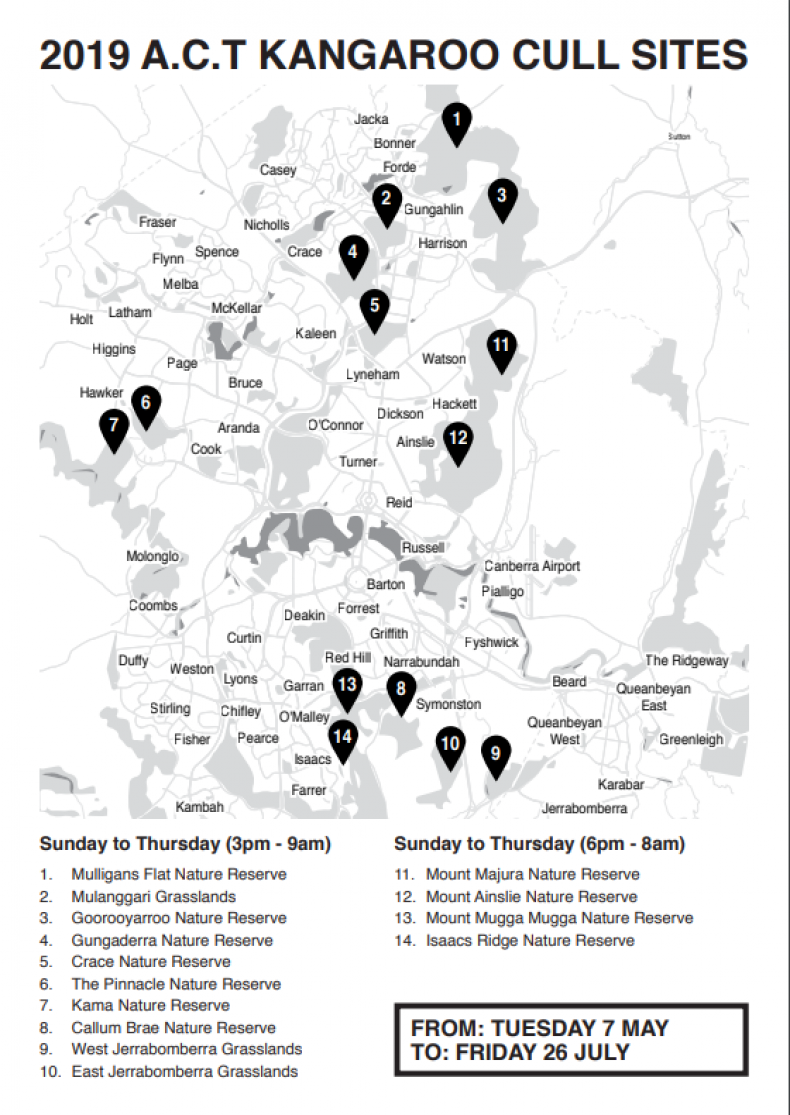 An ACT government spokesperson told Newsweek: "The ACT Government is focused on managing fire and risks associated with the current fire situation.
"The ACT government will assess if there is a need to undertake kangaroo management in due course. Before any decision is made regarding kangaroo management, kangaroo numbers and condition of parks and reserves will be assessed to determine appropriate actions required in the future.
"Kangaroo management in the ACT is focused on conserving habitat for a number of native threatened species," the spokesperson continues. "Unmanaged kangaroo populations can destroy the habitats of threatened native species. The need to undertake kangaroo management is considered annually, based on all available information and a range of factors.
"The ACT government exceeds the requirements of the National Code of Practice for the humane culling of kangaroos."
This article has been updated with comment from the Australia Capital Territory government.