Kansas Abortion Vote Threatens GOP Plan to Flip Governorship
Kansas Republicans have been eager to flip the governorship in this midterm election and the political backdrop of the red state had offered them hope that they'd be successful, but a wrench was thrown into the GOP's plans after a surprising abortion vote signaled that it may be harder than the party anticipated.
With the GOP poised to take back the House and Senate, Republicans felt that Attorney General Derek Schmidt, who won the GOP nomination, would present a real challenge to Democratic Governor Laura Kelly in her bid for re-election.
However, on Tuesday, Kansas voters blocked a Republican-led effort to further restrict or ban access to abortion, upholding a court ruling that determined the right to an abortion was granted by the state constitution. The ballot measure—which marked the first time voters would weigh in on the issue since the Supreme Court overturned Roe v. Wade— was opposed with a nearly 20-point margin.
While the governor's race in Kansas remains a "toss up," according to both the Cook Political Report and FiveThirtyEight, Tuesday's abortion vote spelled good news for Kelly, who is pro-abortion rights.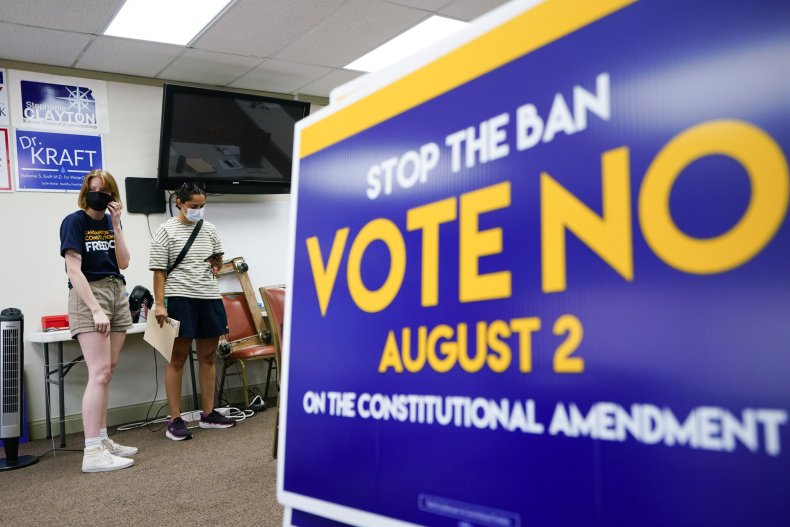 "Tonight we rejected legislation that put women's health care at risk—but our work isn't done," Kelly tweeted after the primary election was called both for her and the "no" referendum vote.
"Extremists who tried to buy today's vote are focusing their efforts on our election. They want to take our state back in time. Help us fight back," she wrote, linking to her campaign donation page.
Kelly, whose favorability soured among Republicans over her COVID restrictions, scored more than 93 percent of the Democratic vote in the primary, but many have warned that the general election could be a widely different story. The incumbent governor will run against Schmidt, whose been endorsed by former President Donald Trump and has promoted Trump's claims that the 2020 election was fraudulent.
Notably, Trump won Kansas in both 2016 and 2020 by a nearly 15 percent margin each time. The state has not elected a Democratic president since Lyndon B. Johnson in 1964.
Although a myriad of factors put Schmidt in a strong position going into November, the abortion vote presented a direct threat to the district attorney, who is not only anti-abortion but a proponent of the failed constitutional amendment.
Last week, Schmidt also issued a legal opinion, which is not legally binding, that argued the amendment wouldn't impact medically dangerous pregnancies because the state law doesn't consider ending an ectopic pregnancy to be abortion.
But abortion rights advocates pushed back, saying that they've seen physicians in Kansas turn patients away for ectopic pregnancies, and contended that Schmidt only issued the opinion to help bolster the referendum's chances of passing.
Dr. Bob Beatty, chair of the political science department at Washburn University, told Newsweek that the massive voter turnout and the fact that a substantial number of Republican and independent voters rejected the amendment will prime Kelly with both opportunities and challenges in the general election.
He said her campaign, and those of other Democrats running for statewide office, will need to "figure out messaging that continues the theme that she is 'protecting all Kansans rights.'"
In 2018, Kelly won with 48 percent of the vote. Four years later, the governor said "she's a more formidable candidate" than she was when she ran the first time.
"In spite of many efforts to thwart our agenda, we got a lot done," Kelly told KCUR-FM in May.
"My position on reproductive rights has been clear from the get-go, from the moment I walked onto the Senate floor," the former state senator said. "I really do believe this is a decision that should be left to a woman and her physician, and not involve politicians."
Kelly has warned that the Republican-led Legislature's efforts to restrict reproductive rights would hurt Kansans. On Tuesday, voters agreed.
In a video shared on social media after her primary win, Kelly told voters that the state GOP will "take us back to the days when Kansas was getting national attention for all the wrong reasons."
"We tried that approach before and it was a total mess," she said. "We cannot go back."
As of Wednesday, FiveThirtyEight forecasted that Kelly and Schmidt both have a 40 in 100 chance of winning the governorship.
Updated 08/03/2022, 12:06 p.m. ET: This story has been updated with comments from Dr. Bob Beatty.