Truck Spotted Barreling Down Kansas Highway With Children Strapped into Outdoor 'Seats'
A video has gone viral depicting two children strapped into the back of pickup truck speeding down a Kansas highway.
The truck was spotted driving on Route 54 in Kellogg, about 30 miles outside Wichita, with the unidentified youths seemingly belted into booster seats. A video of the scene was first posted on Snapchat, with the caption "TF this even allowed," and a skull emoji.
Twitter user Dimitri Fernandez then shared it on Twitter earlier this month, writing, "Wichita, what's wrong with your people?"
Since then, Fernandez's tweet has been viewed more than 1.3 million times and garnered over 47,300 Likes.
Some commenters have claimed putting children in a truck bed is not uncommon, with one Twitter user posting a photo of a similar rig.
A entrepreneur from Chattanooga, Tennessee, pitched his own version, the BedRyder, on a 2016 episode of Shark Tank. (None of the panelists decided to invest.)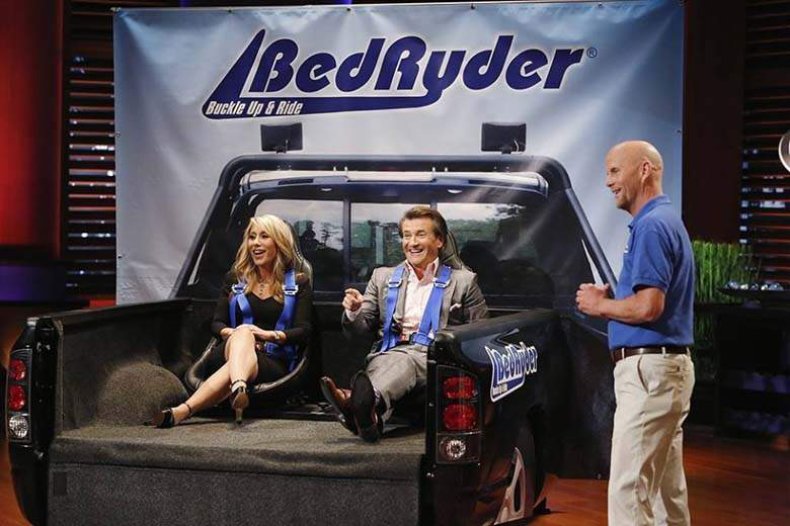 Some argued the contraptions were perfectly legal: "If set up properly the argument can be made in court [that] you're complying with the secure seats being transformed into what is deemed [acceptable] for passengers," wrote Twitter user @Pandaboi. "This would require bolted down seats and proof of transformation with purpose of passenger transportation."
Another user pointed out the scenario had played out in an episode of NBC's My Name Is Earl.
But others debated the safety of minors riding in a truck bed, even belted into booster seats: In a collision, the risk of death in the cargo section of a pickup is eight times higher than for passengers wearing seatbelts in the truck's cab, according to the American Academy of Pediatrics.
Passengers in a truck bed are at risk even if there's not an accident—they can suffer whiplash, bruising or other injuries if the vehicle brakes or accelerates quickly or if it goes around a sharp turn.
And because pickups are designed for commercial use, they often lack safety features available on most cars—including driver warning systems and ample crumple zones. In addition, a truck's higher center of gravity makes a rollover more likely in the event of a collision.
The Kansas Child Passenger Safety Act forbids passengers under the age of 14 from riding in the bed of a truck unless it's during a parade, for employment purposes or while on a road that's not a state highway or within city limits. Violators can be be fined $60 per passenger.
Kansas Highway Patrol Trooper Ben Gardner noted the law in a tweet about the incident.
While some argued the setup was tantamount to a child-safety seat, Gardner said they'd have a hard time making that case to a judge.
"Someone can be fined and go to court, and [a] highway patrolman beats that Kansas City attorney," he tweeted in a separate thread.