Barber Allegedly Dealt Millions of Dollars Worth of Meth, Cocaine from Kansas City Shop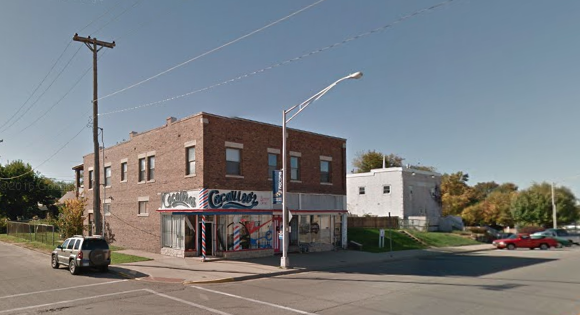 Between sweeping up sheared locks on the floor from the fades and pompadours, Kansas City's Cocoliso's Barbershop was growing a hairy side business — slinging meth.
Edwin "Cocoliso" Pacheco was running a $4 million enterprise out of the Minnesota Avenue store where he stashed stacks of cash in the closet and his Jeep Liberty, according to a guilty plea agreement filed in Kansas City federal court on Tuesday.
The barber transacted cocaine and methamphetamine in buys that were captured by law enforcement stings involving a revolving door of customers -- many of whom were actually confidential informants, court documents say.
Pacheco's connect was 38-year-old Jason Bell — who also pleaded guilty to one count of conspiracy to distribute meth after he was caught red-handed when undercover investigators moved in on the style hub and seized $15,000 cash from the barbershop's closet and confiscated 12 pounds of crank from Pacheco's Jeep Liberty.
A federal judge sentenced Bell to just over 4 years in prison. Pacheco, 39, hasn't been sentenced as yet.
A longtime friend of Pacheco's (who actually inherited his mobile phone number) told Newsweek that he thought highly of the barber.
"He's good peoples," the Kansas City pal, who requested anonymity, said. "Unfortunately this is what went down."
The friend, who personally saw Pacheco for a haircut, was stunned when the barbershop shuttered.
"He was a good barber. And I didn't see any flash," he said. "No flashy cars or bling."
In fact, it wasn't until Tuesday that he learned Pacheco was actually a meth kingpin.
And despite the discretion Pacheco fronted, the friend acknowledged that he didn't really know the man.
"Last I heard he was moving on and doing something else," his pal said. "Since he pled guilty there's has to be some guilt."
Pacheco's mainstay barber shop was plotted on Minnesota Avenue. But as the investigation into his dealings proved, the barbershop was an open bazaar from 2013 through 2016 for cocaine and meth fiends.
Pacheco and a man identified as Oscar Aguilera was selling dope to their clientele and freely communicated about the weight and currency details on text messages detailed in court documents and reviewed by Newsweek.
On April 10, 2014, Pacheco, who often was known as "Coco" for short, sold around 275 grams of meth for $3,900.
The deal was the culmination of the informant and Pacheco haggling over price and eavesdropped by Drug Enforcement Agency (DEA) investigators in what the plea agreements confirm were "several controlled phone calls."
A month later, Bell sold Pacheco $1,300 worth of meth at the barber shop, the papers say.
When the deal was done, the informant saw Pacheco retrieve "a bag of methamphetamine from a closet" in the barber shop, according to Pacheco's plea agreement. "[Pacheco] then handed the methamphetamine and a digital scale to Bell to complete the drug transaction with [the informant]."
Soon after the successful buy, authorities secured a tap on Pacheco and Bell's phones.
A flurry of texts showcased the unabashed manner Pacheco ruled from the barber shop front.
In one June 6, 2014 text, Pacheco wrote to a man by the name of Gabino Garcia, Jr. (who is also referred to as a "co-defendant") talking about paying up for outstanding dues for meth.
"…well can u come like right now to the shop…and i can give you like 2 bands," Pacheco wrote him. The colloquial "2 bands" "was code for $2,000" that Pacheco was going to pay for "previous-supplied drugs," the plea agreement explains.
A week later, the plea agreement notes, Pacheco was shaky about being in arrears with another supplier.
"I'm like 7 short bro… but I will have it by sat..just waiting on something to come back," Pacheco texted to a man with a Colorado phone number.
The "7" in this case was $7,000 Pacheco owed to square up in a drug debt, the document notes.
While Pacheco may have been short cash flow at times, he wasn't timid about calling out his supplier's light deliveries.
In one text from June 15, 2014, Pacheco called out Garcia for a package that "was short thirteen (13) grams, bro."
More intercepts continued with prices and weights slowly swelling. In each, the men refer to the meth as "hielaras" (slang for coolers) or "ice" and each involving the same characters as well as new cast members with names like "Sunny" and "Borrego" — all supplying Pacheco and, in return, he would "distribute the methamphetamine to his customers," according to the document.
And it's around the same time when Pacheco starts to diversify, adding cocaine into the offering.
By August, authorities moved in closer to shutting down Pacheco's dope sideshow.
A deal was floated for as much as 17 kilograms of meth through an informant and an undercover DEA agent.
Bell was approached and initially, he tried to stall saying that "his supply source was not ready yet," according to the plea agreement.
Pacheco then intervened and told the informant the meth would be available "the following day."
At around 1 p.m. on Aug. 14, 2014, DEA agents spotted a white van that pulled up to the Cocoliso's.
It wasn't a customer seeking a trim.
Investigators swarmed and showed a warrant and Pacheco made a futile attempt to flee in his Jeep Liberty.
Bell was nabbed "with one pound of "ice" (140.33 grams) in his shorts pocket.
An additional 12 pounds of the meth were discovered in Pacheco's Jeep Liberty along with a loaded Taurus .45 caliber pistol "with two magazines and ammunition, from a closet in the barbershop," the document states.
They also found $15,450 in cash "behind the air conditioner in the same closet inside barbershop.
Pacheco waived his Miranda rights and copped to meth being delivered to his Jeep and also told authorities that the cash wasn't from meth but more than 20 pounds worth of marijuana deals.
His supplier sang, too.
In a sit-down with prosecutors, Bell shared the inner workings of Pacheco's "approximately $4 million… drug distribution enterprise" involving meth, coke, and marijuana. The foiled deal that landed them both behind bars was to get 17 pounds of meth, Bell explained. And the pound in his shorts was to "complete the four-ounce transaction with the undercover agent."