Kansas City Chiefs Parade Route: Where to Watch Super Bowl LIV Champions' Celebration on Wednesday, Live Stream, TV Channel, Time
The Kansas City Chiefs will celebrate their triumph in Super Bowl LIV with a parade through the streets of Kansas City on Wednesday, followed by a celebratory rally.
The Chiefs lifted the Lombardi Trophy for the first time in 50 years on Sunday, defeating the San Francisco 49ers 30-20 in Miami, Florida.
The event will begin at 11:30 a.m. on Wednesday, before heading west on Pershing Road and ending at Union Station.
There, a celebration rally will begin at approximately 1:30 p.m.
As is the norm on these occasions, traffic jams and large crowds can be expected.
The organizers said Kansas City Streetcar services will be suspended before and during the parade, while five points have been designed to allow pedestrians to cross the route—9th Street, 13th Street, Truman Road, 18th Street and 22nd Street.
Both the parade and the rally will be broadcast live on KSHB-TV Kansas City and NFL Network, while a live stream will be available on NFL.com.
"For the first time in 50 years, our Kansas City Chiefs are bringing home the Vince Lombardi trophy, and we're all excited to celebrate with our players and fans," Mayor Quinton Lucas said in a statement.
"We will cheer on the World Champion Kansas City Chiefs this Wednesday morning during our victory parade through downtown Kansas City. Thanks, Kansas City, for being such a great city and having such amazing fans!"
Speaking at a news conference on Tuesday to disclose the details of the parade, Jackson County Executive Frank White added: "This is 50 years in the making and this is something that will live with us the rest of our lives."
Kansas City last hosted a title celebration six years ago, when the Royals thrashed the New York Mets 4-1 to clinch the 2015 World Series.
In a blog post on Monday, Kansas City Police Chief Rick Smith said the city was ready to host what is likely to be the biggest celebration since the one that greeted the Royals triumph five years ago—but pleaded with attendees to be patient.
"We are expecting hundreds of thousands of people to descend on a very limited area in downtown Kansas City," he wrote.
"If you plan to attend, expect very heavy congestion, big traffic delays and huge crowds. Pack your patience. There is only so much police can do to move that many cars and people along."
The National Weather Service has issued a Wintery Weather Advisory for Wednesday, with temperatures expected to be between 25 and 30 degrees and possible snow showers.
Kansas City has had to wait half a century to celebrate a Super Bowl triumph. The Chiefs won Super Bowl IV in 1970, before failing to reach the NFL's showpiece event for five consecutive decades.
The drought came to an emphatic end on Sunday, as the Chiefs overcame a 10-point deficit midway through the fourth quarter, thanks to a stunning performance from Patrick Mahomes.
Down 20-10 with 8:32 left on the clock, the Chiefs quarterback led his team to score on three consecutive drives, as Kansas City put up 21 unanswered points.
It was the third time in as many playoff games this season that Mahomes had faced a gap of 10 points or more, the fifth time overall this season. The Chiefs have won each of those five games, giving Mahomes the most-double digit comeback wins in a season of any quarterback in NFL history.
Up until this year, no quarterback in the history of the game had ever come back from a deficit of 10 points or more in three consecutive playoff games.
"He's so special," Chiefs tight end Travis Kelce said of his teammate.
"I'm so proud of him. I hope he stays in Kansas City his whole career. He's a better person than he is a player, and he's a hell of a player, and now he's a world champ."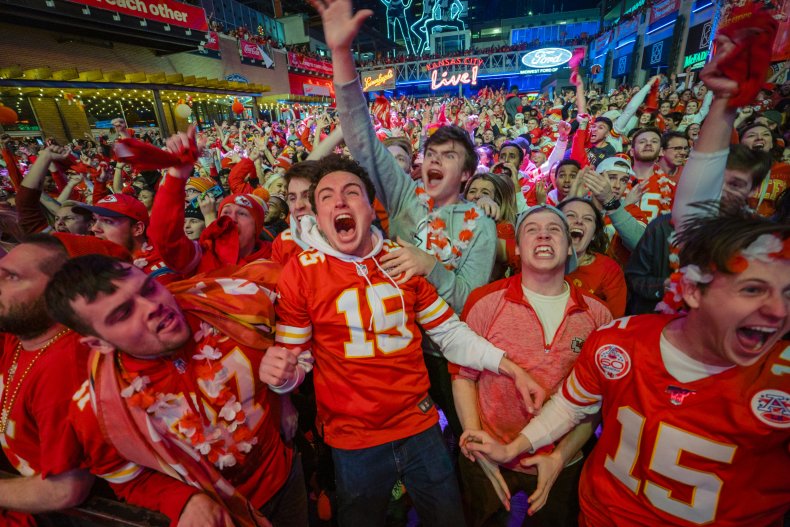 Kansas City Chiefs Parade Route: Where to Watch Super Bowl LIV Champions' Celebration on Wednesday, Live Stream, TV Channel, Time | Sports