Kansas City Chiefs Place 2 Players On COVID List Just Days Before Super Bowl
The Kansas City Chiefs have placed two offensive players on the COVID-19 coronavirus reserve list just six days prior to the Chiefs playing in Super Bowl LV. Wide receiver Demarcus Robinson and backup center Daniel Kilgore were placed on the list because of close contact.
These are the first players from this week's big game to be placed on the COVID/reserve list before the Super Bowl, which is scheduled for this Sunday, February 7, in Tampa, Florida. The Chiefs will play the hometown Tampa Bay Buccaneers.
Should Kilgore and Robinson check out as only close contacts, they could still potentially play Sunday if they have negative COVID tests for five-consecutive days, according to the breaking news report from ESPN's Adam Schefter.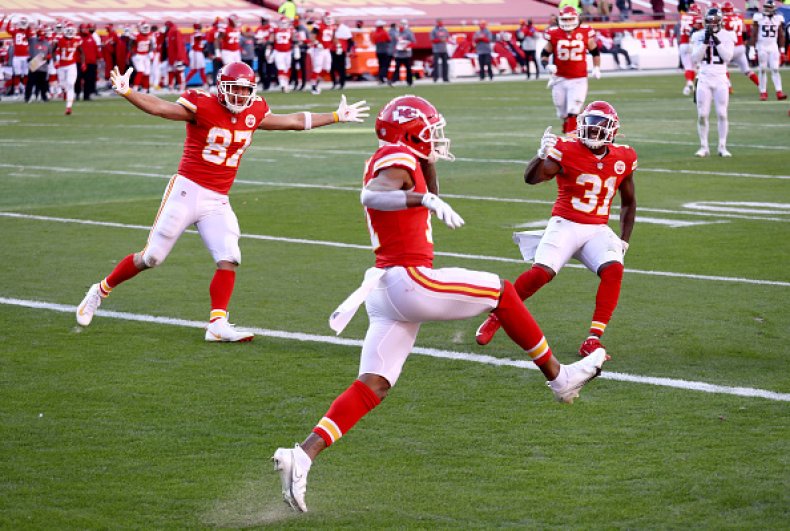 Robinson, 26, is playing in his fifth NFL season—all with the Chiefs. He had 45 catches for 466 yards and three touchdowns in the regular season, and he has 120 career receptions for 1,415 and 11 touchdowns. He was drafted in the fourth round out of the University of Florida in 2016.
Kilgore, 33, started four games for the Chiefs in 2020 and has appeared in seven games. The 10-year veteran backs up starting center Austin Reiter in the potent Chiefs offense that's led by quarterback Patrick Mahomes.
The NFL made it through the entire 2020 season and recent playoffs with no cancellations and only a handful of postponed games due to COVID-19.
Super Bowl LV will be played before only 22,000 fans because of ongoing COVID issues. About a quarter of those in attendance will be frontline nurses and healthcare workers who have received their vaccine shots already.
There will be strict regulations at Raymond James Stadium for social distancing and wearing face coverings to help prevent spreading the virus at an event that could otherwise be deemed a super spreader.
The Chiefs are appearing in their second-consecutive Super Bowl after winning it all last year. The Buccaneers are the first team in NFL history to play in its home stadium for a Super Bowl.
The Buccaneers are led by quarterback Tom Brady, who is playing in his 10th Super Bowl. He won six Super Bowl titles in his 20 years with the New England Patriots.
Meanwhile for the Chiefs, Mahomes looks to become the first quarterback to win multiple Super Bowls before turning 26, and he hopes to become only the second quarterback in history to win two Super Bowls within the first four years in their career. The other was Tom Brady.