Kansas City Fire Rages as Fans Celebrate Reaching Super Bowl
A fire broke out near the Arrowhead Stadium in Kansas City on Sunday after the Chiefs secured their victory over the Cincinnati Bengals to reach the Super Bowl.
A video clip of the fire has begun to circulate on Twitter and shows that many cars were positioned very close to the blaze.
KCTV5 reporter Mark Poulose tweeted an image of the fire and said it was just outside the Kansas City Chiefs' Arrowhead Stadium.
He later gave an update to say the fire department had arrived and was in the process of putting the fire out.
The fire appeared to be on the grassy hills outside the stadium at Gate 6 and was put out within 40 minutes, according to a KCTV5 report.
The fire started around 9:50 p.m. and was out before 10:30 p.m., according to a KCPD report.
The Kansas City Fire Department was quick to put out the blaze as some trucks were already on the scene as a precaution.
The fire occurred as the Chiefs reached their third Super Bowl in four years as they won a thrilling contest against the Cincinnati Bengals 23-20 in the AFC Championship Game. They will now face the Philadelphia Eagles in Super Bowl LVII in Arizona on February 12.
One video at the scene so far has over 70,000 views and shows emergency services dealing with the fire.
A large cloud of smoke can be seen as the fire rages on in the clip. Vehicles can also be seen slowly moving through the area.
Images of the fire from other vantage points has begun to circulate on social media as well.
Radio host Dana Wright of KMBZ shared an image where the fire appeared to resemble the shape of a "C."
She captioned the image: "C stands for champion as arrowhead near gate 7 is literally on fire. Be safe all."
Other images showed how far the fire could be seen from and how far the smoke traveled from the stadium.
Television News producer Rob Zerwekh for Fox 4 shared some of the images to his Twitter page.
It is not yet clear whether anyone was injured in the blaze. The Kansas City Fire Department has launched an investigation into the cause of the fire.
In a statement about the fire, Kansas City Fire Department spokesperson Jason Spreitzer said: "Dry grass conditions and winds along with having a water source were challenging."
Newsweek has contacted the Kansas City Fire Department and the Kansas City Police Department for comment.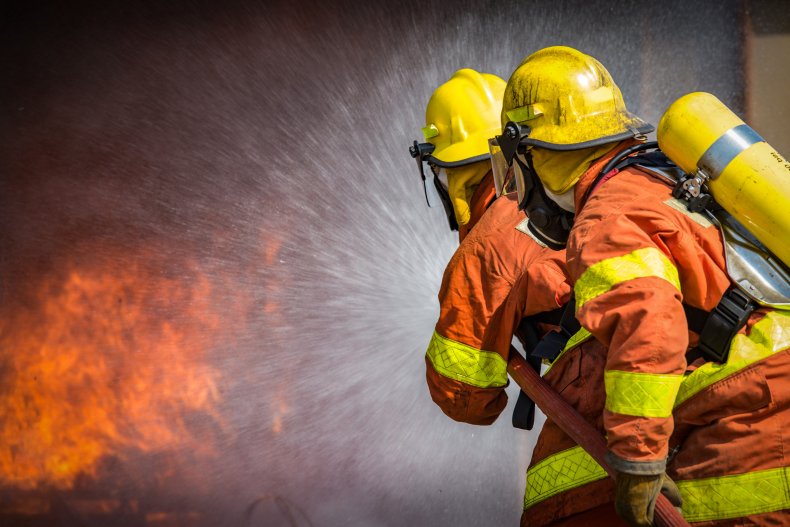 Update 1/30/23, 6 a.m. ET: The headline on this article was updated for clarity.