Kansas City Making Super Bowl Victory Plans With Two Games Still To Play
The mayor of Kansas City spent part of Tuesday discussing how his city could celebrate a another Super Bowl celebration should his hometown Chiefs win the big game on February 7 in Tampa, Florida.
There are two problems, though. First, the Kansas City Chiefs still need to beat the Buffalo Bills this Sunday in the AFC Championship just to get to the Super Bowl, and then they would need to beat either the Green Bay Packers or Tampa Bay Buccaneers in Super Bowl LV.
Secondly, the city can't possibly throw a huge shindig like they did last February after the Chiefs ended their 50-year Super Bowl drought by beating the San Francisco 49ers.
Thousands upon thousands of fans lined the streets to greet and celebrate their team. A couple of weeks later, COVID-19 hit the city pretty hard.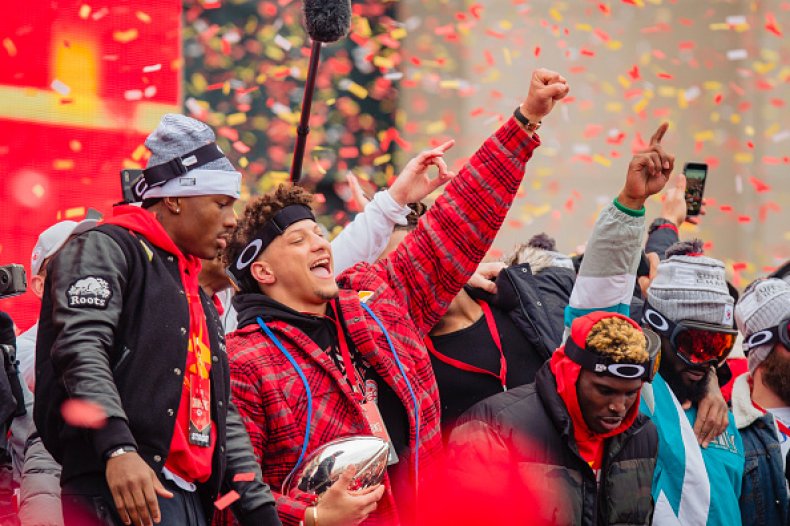 During a Tuesday morning University of Kansas Health System briefing, Kansas City Mayor Quinton Lucas said a parade would be "highly unlikely" during the ongoing pandemic.
"But there will be different ways that we come up with to try to celebrate," Lucas said in the Kansas City Star.
Morgan Said, who's the communications director for Lucas, said the city is already looking to use Arrowhead Stadium as a possible site for a celebration.
That's not far-fetched as the Chiefs have hosted home fans this season for home games. However, that was done at 22 percent capacity—or roughly 16,000 fans—to allow for social distancing. It likely would be the same capacity for a Super Bowl victory party.
In addition to not having a parade, the mayor's office is discouraging from crowded house parties, bars and restaurants to watch their team play this Sunday night. And if they win, the same discouragement will likely be the same during Super Bowl LV weekend.
Kansas City has already implemented strict rules against bar, restaurant and other large gatherings prior to the holiday season in an effort to prevent a continuing spread of the coronavirus.
After the Chiefs held on to beat the Cleveland Browns, 22-17, last Sunday at Arrowhead, the mayor said he saw people celebrating in local bars and other areas via video footage. He knew that mask wearing and social distancing could have been better. With a metro area that has already seen 1,500 COVID deaths, Lucas said he'll reach out to the popular entertainment districts to ensure there aren't "a lot of people sick around the Super Bowl."
"I'm not waking up on this holiday with a punitive thought in mind," Lucas said Monday. "I do, however, want to make sure that we're thinking safety as much as we can, and that's the biggest issue for me."
The Buffalo Bills will play in their first AFC Championship since 1993 when they travel to face the Chiefs. Kickoff will be at 6:40 p.m. Sunday, and can be seen on CBS.