LGBTQ Exhibit Removed From State Capitol Building After 'Several Complaints'
Missouri's only openly gay lawmaker has condemned the decision to remove an exhibit on Kansas City's LGBTQ history from the state's Capitol building.
Sen. Greg Razer, a Kansas City Democrat, responded angrily to the removal of the display from the Missouri State Museum at the Missouri Capitol in Jefferson City.
The exhibit titled, "Making History: Kansas City and the Rise of Gay Rights," contained images and words detailing the fight by men and women in Kansas City for LGBTQ rights in Missouri and across the country.
Made by students at the University of Missouri-Kansas City, the exhibit went up on August 27 and was expected to remain in the Capitol until December but was removed on Wednesday.
A spokesperson for Republican Governor Mike Parson told Newsweek that initially he "was not aware of the display" but his office found out about it after "receiving several complaints."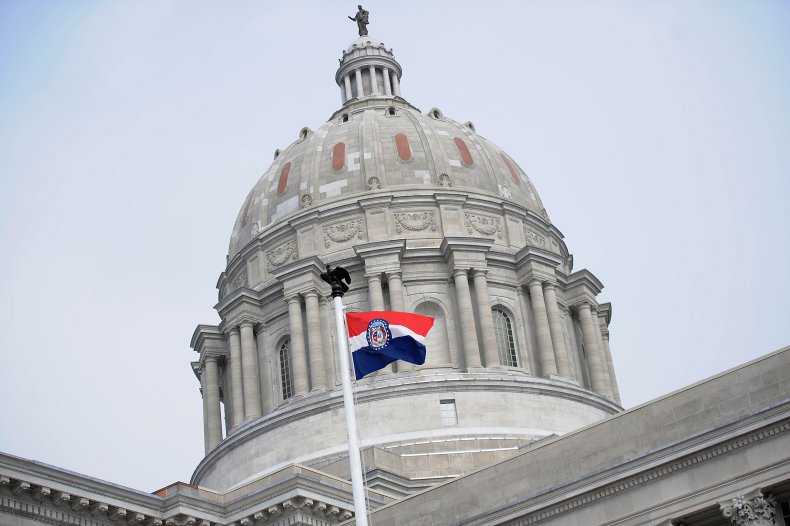 Connie Patterson, spokesperson for the Capitol's Department of Natural Resources did not say where the exhibit had gone or under whose orders it had been removed, the publication reported.
On Tuesday, Uriah Stark, who is the legislative aide for GOP state Rep. Mitch Boggs, condemned the exhibit on Facebook, where he posted images of it and questioned why a taxpayer funded museum "is pushing the LGBT agenda in our state capitol."
"These are literally in-your-face banners that you can't walk through the museum without seeing," the posted added.
After its removal, Stark praised elected officials, writing on Facebook: "To God be the glory!" adding that "thank you all for standing for traditional family values!"
The post also cited lawmakers who The Missouri Times had said were not involved with the display's removal.
However, Sen. Razer tweeted that he was "extremely disappointed and angry" with the decision.
He told The Missouri Times the display "is in no way offensive or controversial," adding that "the story told in that exhibit is the reason I am able to be a senator today."
He said that there were lawmakers "who are actively working to dismiss Missouri's history and the history of my community. It is personally offensive to me."
The governor's office said in a statement to Newsweek that the exhibit was removed because proper procedures were not followed.
It said the Department of Natural Resources, which oversees the Division of State Parks, runs the museum and that state statute required the Department to coordinate museum activities with the Board of Public Buildings.
The statement shared with other media outlets said, "the statutorily mandated process was not followed in this instance thereby causing the Department of Natural Resources to remove the display."
This story has been updated to include a statement to Newsweek from the Missouri Governor's office.