Kansas City Newspaper Urges Mike Pompeo to 'Stay Away' from Home State
The Kansas City Star urged U.S. Secretary of State Mike Pompeo to stay away from his home state of Kansas on Wednesday as it argued that the state would be "much better" without the top Trump administration official.
Publishing an op-ed as the House voted to impeach President Donald Trump for a second time, the newspaper argued that America would be "better" once Pompeo had left office, and hit out at his "sad record" at the Department of State.
The Kansas City title, based in the Missouri city bordering with Kansas, added that Pompeo had tried "his best to wreck" American foreign policy as the incoming Joe Biden administration neared the Oval Office.
"In about a week, Secretary of State Mike Pompeo's service will mercifully come to an end," the Kansas City Star wrote. "America will be better when he leaves office. Kansas will be much better if he decides to stay away from his adopted home state forever."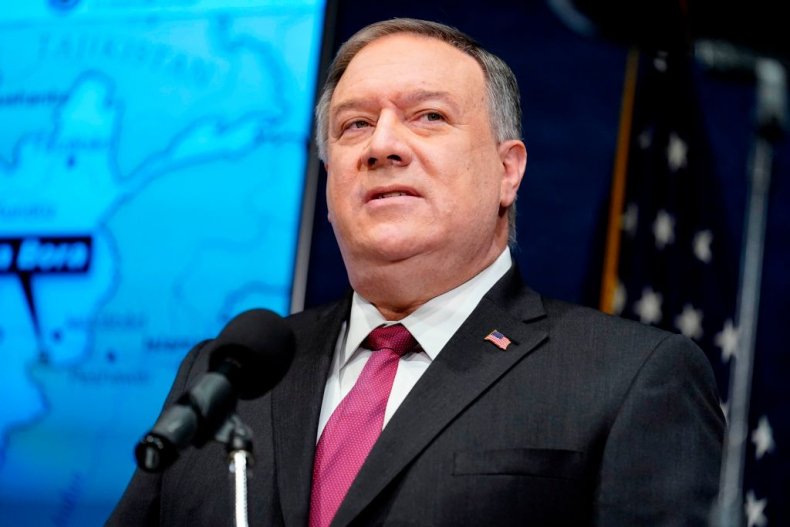 The newspaper's editorial board went on to excoriate the secretary of state's handling of the press, arguing that he had "fought free speech and the free press" since taking his post in the Trump administration.
It then took aim at his foreign policy record, saying that the U.S. was not "more respected" around the world in the wake of his tenure, and claiming that other nations had stepped "into the breach" left behind.
"Kansans will do well to remember this sad record if Pompeo comes back and runs for office," the Star added. "No doubt he'll be asked about it, and he won't respond well."
Newsweek has contacted the State Department for comment. This article will be updated with any response.
The Kansas City Star editorial board issued its parting shot at Pompeo after the secretary of state designated Cuba as State Sponsor of Terrorism and the Yemeni Houthi organization Ansar Allah as a terrorist group, creating issues for the incoming Biden administration.
His moves drew the ire of some allies. The European Union said the designation of the Houthi movement as a terrorist group would "complicate" efforts to engage Ansar Allah on political and humanitarian matters.
"The designation is likely to have disruptive effects on the delivery of humanitarian aid funded by the international community and further aggravate the economic crisis which has resulted from over five years of conflict," the statement added.
Cuba said its designation as a State Sponsor of Terrorism was an act of "political opportunism" and would not be viewed as honest by those "concerned about the scourge of terrorism."