Kansas Democrat Vowed to Mobilize Lawsuits if GOP Overrode School Bill Veto
A Democratic lawmaker in Kansas said she would have worked to find parents of students to file lawsuits over an education bill if members of the House GOP had overridden a veto from the state's governor.
House Representative Valdenia Winn this week told her GOP colleagues that if they secured enough votes, overrode a veto and passed an education bill, she would have taken action and reached out to parents. In announcing her proposal, Winn claimed she would have been using the rights afforded to parents in the bill.
Winn, according to the Kansas Reflector, stated that she would "personally and collectively engage parents" of students who may have been marginalized to sue schools if there are periods of history that were not taught as a result of the bill.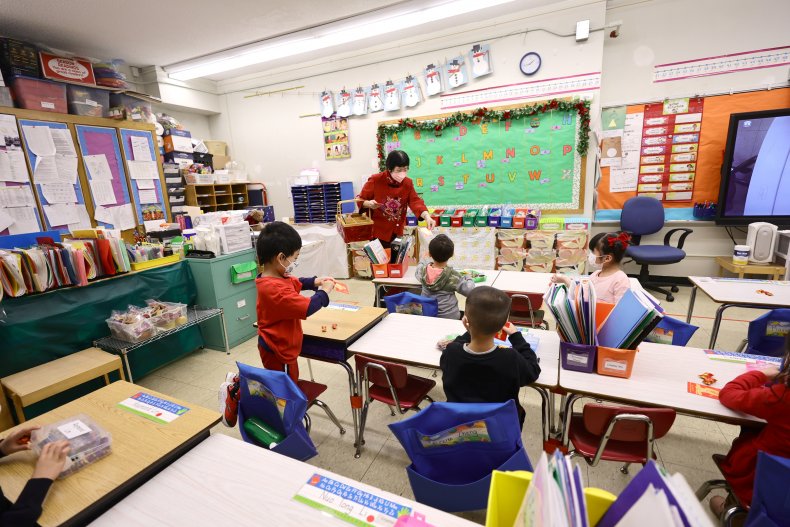 "And if it does not truthfully and honestly talk about the 300 years of brutality of African American enslavement, or if it does not teach about Jim Crow and lynching and domestic terrorism, and the Ku Klux Klan. Or if it does not talk about the Japanese American concentration camps. Or the Stono Rebellion. Or the Stonewall Inn riots. Then those parents have the same right to sue the school district. And if that's what you want—all the litigation—then that's what you have in this bill," she said, according to the outlet.
However, the attempt to override the governor's veto was unsuccessful, the Reflector reported. The two-thirds voting threshold was not met, as the decision in the Kansas House came down 72-50 in favor.
The bill that was under consideration, Senate Bill 58, would have required "boards of education of each school district to develop and adopt policies to guarantee parents' rights."
It goes on to read that parents would have had the right to inspect all classroom materials provided to the children and object to "any learning material or activity based upon harm to the child or impairment of the parent's firmly held beliefs, values, or principles and withdraw the parent's child from said activity."
Also, the bill states that parents would be allowed to "challenge the material or educational benefit of any book, magazine, or other material available to students in the school library" and if the raised objections proved successful, that reading material would be removed from the school.
Winn also stated that the bill is a solution to an issue that does not exist.
"There is this big problem if you accept this ploy that children are being brainwashed, and there are these nefarious things going on in schools. It's not happening," Winn said, according to the Reflector.
However, Republican State Representative Steve Huebert argued that Winn is wrong and pointed to comments from President Joe Biden to teachers' unions.
"President Biden in talking to teacher unions just said—and I'm not making this up, you can go read it online—that when those kids are in your classroom, they're your kids, not the parents'. You can say, 'Well, that's a misinterpretation of what he's saying.' But there's a whole lot out there that says that's real. That's the belief. And they just as soon not," Huebert said, according to the Reflector.
Newsweek reached out to Winn, Huebert and Speaker of the Kansas House Ron Ryckman for comment.