Kansas' Democratic Governor Calls Biden's Vaccine Mandate 'Too Late'
Kansas Governor Laura Kelly questioned how effective President's Biden's vaccine mandate would be for residents of her state and said it was "too late" for the federal government to be implementing such efforts this late into the coronavirus pandemic.
"Yesterday, I reviewed the new vaccine mandate from the Biden Administration. While I appreciate the intention to keep people safe, a goal I share, I don't believe this directive is the correct, or the most effective, solution for Kansas," Kelly, a Democrat, said in a Friday statement.
"States have been leading the fight against COVID-19 from the start of the pandemic. It is too late to impose a federal standard now that we have already developed systems and strategies that are tailored for our specific needs," she added. "I will seek a resolution that continues to recognize the uniqueness of our state and builds on our ongoing efforts to combat a once-in-a-century crisis."
On Thursday, the White House set January 4 as the deadline for businesses with 100 or more employees to mandate COVID-19 vaccinations or require weekly testing from their workers.
The rule is expected to apply to an estimated 84 million workers in the private sector and will be implemented by the Labor Department's Occupational Safety and Health Administration (OSHA).
Under OSHA rule, workers must get paid time off to get vaccinated but employers would not need to pay for weekly testing of unvaccinated workers. Unvaccinated employees will also be required to wear face masks while on the job.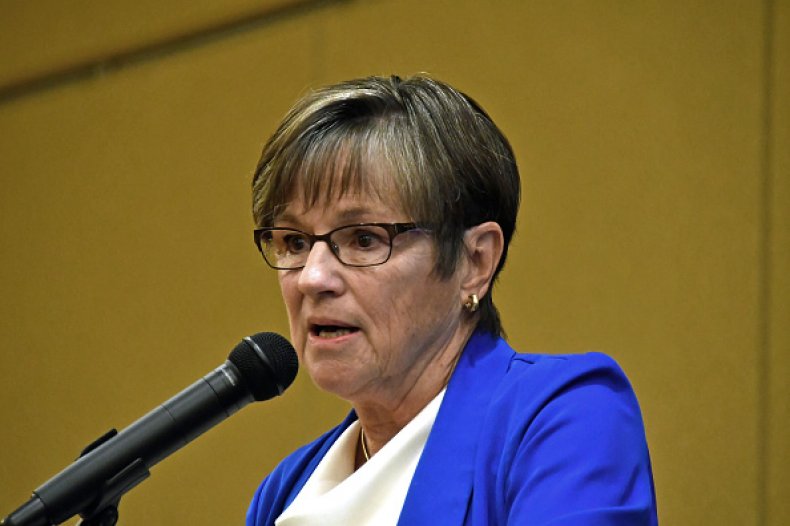 Kelly, who is up for re-election next year, joined many Republican governors in voicing her opposition to the new standard required by the Biden administration.
Among the most prominent critics are Florida Governor Ron DeSantis, who has pledged to challenge the rule, arguing that it violates constitutional rights and will further the labor shortages many industries are currently facing.
"Florida will be responding, and I think the rule's going down," DeSantis said. "I just don't think that there's an adequate basis for it, and I think you've even seen people on their side acknowledge that they don't have firm constitutional footing for this."
Biden has defended the mandate, saying it has "broad public support," and used October's unexpectedly strong jobs report to demonstrate that high vaccination rates would also lead to a quicker economic recovery.
"In recent months, we've started implementing vaccination requirements to help bring the number of unvaccinated adults down in this country, from around 100 million several months ago to 16 million now," Biden said from the White House on Friday.
"That's good for our health, but it's also good for our economy," he added. "Now, vaccinated workers are going back to work, vaccinated shoppers are going back to stores and with the launch of the vaccine for kids ages 5 through 11 this week, we can make sure more vaccinated children can stay in school."
The report, released Friday, showed the U.S. job market roaring back with nonfarm payrolls rising by 531,000 last month, compared to the Dow Jones estimate of 450,000. The unemployment rate also fell to 4.6 percent—something forecasters had predicted wouldn't come until the end of 2023.
The administration predicts the vaccine mandate will prevent more than 250,000 hospitalizations in its first six months.
Over the course of the pandemic, 15,009 COVID-19 patients have been hospitalized in Kansas and another 6,448 residents have died from the virus in the state.
As of Friday, 53.7 percent of Kansans have received at least one dose of a COVID-19 vaccine and 47.8 percent are fully vaccinated.
The rate in Kansas is lower than the national average, which shows that 67 percent of Americans have received at least one dose and that 58.2 percent are up to date on their immunizations.