The Kansas Republican Party last week approved a resolution that opposes "all efforts to validate transgender identity," in what a leading LGBT advocacy group said was part of a "concerning and unacceptable" trend in countrywide anti-trans sentiment.
At the state party's annual meeting in Wichita on February 17, the Kansas Republican Party approved a resolution entitled "Regarding Human Sexual Identity" and its stance against medical treatments.
Transgender is an umbrella term used to describe a person whose gender expression is different than the sex they were assigned at birth. Some, not all, transgender people decide to undergo medical procedures such as hormone treatment and surgery to make their body conform to their gender identity.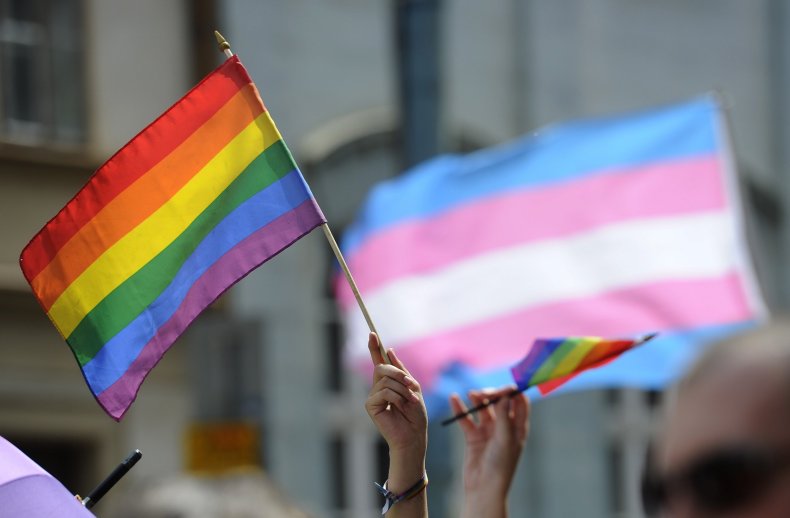 The resolution stated that the party "recognizes the dignity of every human being, including those who identify as LGBT," but affirmed "God's design for gender as determined by biological sex and not by self-perception" and opposed "all efforts to validate transgender identity."
Responding to a trend in some schools of accepting the gender identities of trans students, the party said it recognized the "fundamental right of parents to guide their child's education" and agreed that "public schools should not undermine the values of parents who do not agree with transgenderism."
The committee, comprised of 180 members, passed the resolution on a voice vote,The Wichita Eagle reported. The resolution is particularly significant as the party holds the governor's office, a majority in the Kansas legislature and all of the state's congressional and Senate seats.
Eric Teetsel, president of the Family Policy Alliance of Kansas who proposed the resolution, told The Wichita Eagle that he was "motivated by love" to put forward the document because he believes that the GOP should stand up for what he described as Christian principles.
"Ultimately, an ideology that says you can determine your own gender identity is broken and it's going to lead to a lot of pain, and that's why it's important to bring us back to what we know to be true and good," Teetsel said.
"It is concern for the well-being of others that drives us to seek out what is true and not just for society, but for them personally," he added.
Read more: Why LGBT rights groups are worried about Georgia's Keep Faith in Adoption and Foster Care Act
However, some Republicans fear that the resolution will push away young voters, the publication reported. Drake Robinson, vice chair of the Wichita State College Republicans, said in a statement that the Kansas GOP should focus on issues "of pressing concern," such as the state budget, school funding and other programs.
Sarah Kate Ellis, president and CEO of leading LGBTQ advocacy group GLAAD, told Newsweek that the resolution was the latest show of anti-LGBT sentiment by political groups and lawmakers.
"Last year, in Trump's first year in office, there were over 120 anti-LGBTQ bills introduced in over 30 states," she said.
Kentucky, for instance, passed legislation that could allow student groups at public high schools, colleges and universities to discriminate against LGBTQ students. The Utah Senate, meanwhile, approved a bill that enhances penalties for HIV and Hepatitis B and C nondisclosure, which the Human Rights Campaign believes would affect LGBT people.
"This trend is continuing into 2018, and some of the worst bills support religious exceptions that codify discrimination into law, aim to erase trans people or bar them from public accommodations, and attack transgender young people," argued Ellis.
"GLAAD's own research shows that LGBTQ acceptance is dropping at a time when anti-LGBTQ violence and discrimination are on the rise in our current political climate," she added.
Last month, a GLAAD survey of over 2,100 U.S. adults by The Harris Poll found a decrease in acceptance of LGBTQ people for the first time since 2014.
"This is concerning and unacceptable, and we must change this tide of hate, and push for full acceptance and rights for LGBTQ people in our nation," said Ellis.
The Kansas Republican Party did not immediately respond to a request for a comment on Monday.