Three people were injured Friday in a shooting at a high school in Olathe, Kansas.
After police responded to reports of shots being fired in Olathe East High School's office area, the suspect, a student at the school, was taken into custody after being shot by police, CNN reported.
The condition of the suspect has not been released, but local news station KSHB revealed that the school resource officer and an administrator were discharged from the hospital. Newsweek was unable to confirm KSHB's report that the administrator was the school's principal.
Although the Olathe Police Department said that there is not an active threat to the school or the community, it is urging people to stay away from the area as the investigation continues.
In a statement sent to Newsweek, Olathe Mayor John Bacon expressed his condolences to those affected, as well as to the rest of his community.
"Our hearts are with those affected by today's events at Olathe East High School. The Olathe community demonstrates time and time again our love and support for one another," Bacon wrote. "Thank you to our friends and neighbors near and far who continue to offer their prayers of support and healing. Finally, a heartfelt thank you to Olathe police officers, school resource officers and school leaders for the courage they displayed today."
"Our thoughts are with the entire Olathe East High School community today. We are closely monitoring the situation on the ground & are in communication with law enforcement," Governor Laura Kelly said in a statement on Twitter.
"I am praying for those injured and want to thank the brave law enforcement officers who responded quickly today," said U.S. Senator Jerry Moran, who has represented the state since 2011, in his own Twitter statement. "I'm thankful all students have been reported safe at this time."
Olathe East High School has about 2,000 enrolled students who reunited with their parents at a nearby park. Olathe Public Schools posted on its official Twitter account that it will be providing counseling services. The district also explained the reunification and dismissal process.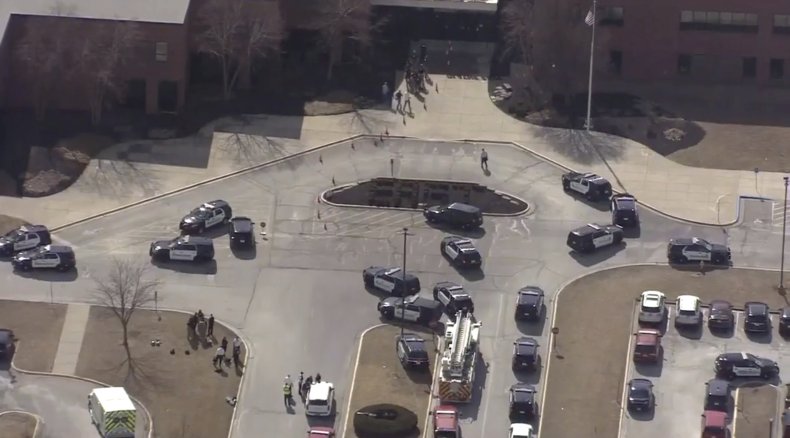 "Student drivers will be released in a staggered fashion and escorted to their vehicles," the district said. "Special Education bus riders will come home on buses from Olathe East as normal. Admin/LE will facilitate reunification. Our goal is to reunify students with their families as soon as we can."
"Thank you for your patience, Olathe family," the district added.
Students at Olathe East said they were given minimal information on the events while in lockdown.
"There were a bunch of rumors, but we never truly knew what was, like, correct, and we were just in lockdown for two hours and didn't know what was right or what was wrong," one student told local news station KMBC. "Our principal went over the intercom and told our teachers to look at their emails immediately, like drop everything. Our teacher said we were in lockdown, and she went and locked the door. That's all we knew at that point."
Olathe Police Sergeant Joel Yeldell did not give information on what prompted the shooting, according to the Associated Press.
"That is just what we are used to seeing," one parent told AP. "There are so many shootings all the time that it is such a sad reality that this is what we have to live with.…The kids just expect this. They hear about it all the time."
Newsweek has reached out to Olathe city officials for comment.
This is a developing story and will be updated when more information becomes available.
Update 3/4/22, 4:56 p.m. ET: This article was updated with additional information.