Kansas Teens Save Woman Trapped After Falling Asleep and Driving into Lake
Two Kansas teenagers are being praised after leaping into action to save the life of a woman who fell asleep at the wheel and crashed into a lake.
Cooper Doherty and Kaeden Fellingham, both 17, were driving near Lake Olathe on Sunday when they heard screams coming from the direction of the water. They spotted a van approximately 30 yards out in the water and didn't hesitate to help.
Doherty said he entered the water and swam towards the van, quickly followed by Fellingham. The unnamed victim, who was alone in the vehicle, said she was stuck in the van's wheel.
"The lady was freaking out," Doherty told WDAF, recounting how he dove underwater to help her free her foot. The victim then climbed onto the roof of the van and waited for assistance from the local fire department.
"She said that she hadn't been to sleep for a while and that she suddenly fell asleep and just skidded off the road," Fellingham told the station.
"When [firefighters] came, they sent out a guy and he had a float with him," Doherty added. "They got her out, and me and Kaeden just swam back." .
Doherty's father commended his son's quick thinking and bravery: "I was like, 'wow,'" he told WDAF. "First, my wife was like, 'That was dangerous what are you thinking?' I'm like, 'Yes,' I mean, very proud. We both we're proud."
Reflecting on the incident, Cooper Doherty offered this advice: "Don't just wait for someone else to do it first." Local media reported the woman escaped without injury and was thankful for the help.
The Centers for Disease Control and Prevention (CDC) warns that driving without adequate rest is "clearly dangerous." Even those who don't actually fall asleep behind the wheel have reduced decision-making abilities, putting other motorists and pedestrians at risk.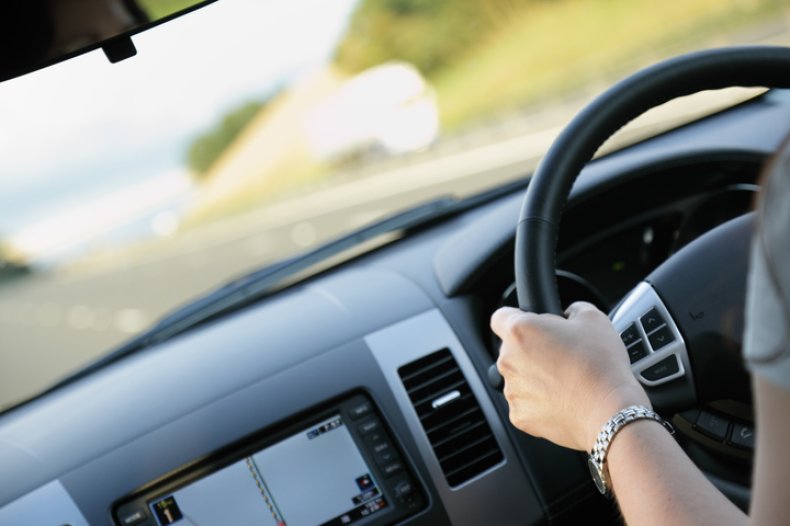 "Drowsy driving is the dangerous combination of driving and sleepiness or fatigue," the CDC reports. "This usually happens when a driver has not slept enough, but it can also happen due to untreated sleep disorders, medications, drinking alcohol, or shift work."
The National Highway Traffic Safety Administration (NHTSA) conservatively estimates that up to 100,000 crashes reported to police each year are caused by drowsy driving. Such accidents result in more than 1,550 deaths, 71,000 injuries and $12.5 billion in losses, according to the U.S. National Sleep Foundation.
According to the NHTSA, drowsy driving led to an estimated 91,000 crashes in 2017 alone. Between 2013 and 2017, at least 4,100 people died in such incidents.
"In a 24/7 society, with an emphasis on work, longer commutes, and exponential advancement of technology, many people do not get the sleep they need," reads the NHTSA's drowsy driving report. "Dealing with the drowsy-driving problem requires fundamental changes to societal norms and especially attitudes about drowsy driving."