Another one bites the dust. Another No. 1 men's college basketball team, that is. Top-ranked Kansas lost to No. 18 Villanova, 56-55, on Saturday, marking the fifth time in seven weeks that a No. 1 men's team has lost this season.
No. 2 Gonzaga will likely move up a spot to become the sixth team to be ranked No. 1 before the end of the year, which would extend a record set just last week.
The weekly topples began on opening night when preseason No. 1 Michigan State lost to No. 2 Kentucky, propelling the Wildcats to the top spot. Kentucky lost at home to unranked Evansville after just one week at No. 1.
Duke took over the top spot but lost at home to unranked Stephen F. Austin in overtime. Louisville moved to No. 1, but then they lost to No. 24 Texas Tech at Madison Square Garden in New York City.
Gonzaga, which moved up four spots to No. 2 last week, will likely be the new No. 1 should they win at home Saturday against Eastern Washington University.
Here are the top-ranked men's teams that have lost so far in the 2019-20 season:
Nov. 6, 2019 — No. 2 Kentucky 69, No. 1 Michigan State 62
Nov. 12, 2019 — Evansville 67, No. 1 Kentucky 64
Nov. 27, 2019 — Stephen F. Austin 85, No. 1 Duke 83 (OT)
Dec. 10, 2019 — No. 24 Texas Tech 70, No. 1 Louisville 57
Dec. 21, 2019 — No. 18 Villanova 56, No. 1 Kansas 55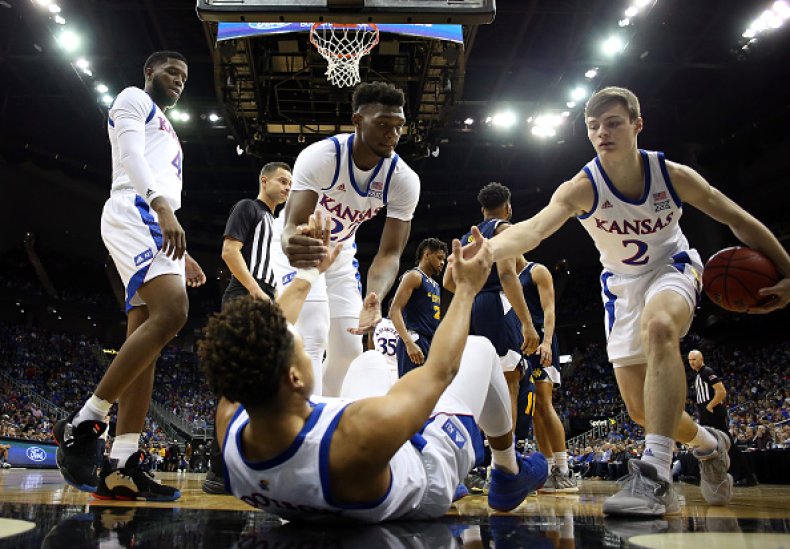 The loss by Kansas on Saturday at Villanova did not come without drama at the end of the game. Kansas' Udoka Azubuike made a layup with 52 seconds remaining in the first half to tie the game at 23-23, which was the score at halftime.
The teams traded leads, and Villanova extended its lead to 35-27—the largest of the game by any team—at the 14:52 mark in the second half. The game stayed tightly played, and Kansas took a 55-51 lead when Christian Braun made a layup with 1:49 to go.
Villanova's Collin Gillespie made a layup after a steal with 1:11 to go, and Jermaine Samuels drained a three-point shot with 24 seconds to go in the game.
Kansas had its chances to score, but missed on several opportunities. David McCormack missed a jumper when the Jayhawks held a 55-53 lead, Devon Dotson missed a free throw when they were down by one point and then Dotson missed on a jumper as time expired.
Kansas is off for the Christmas break, and they return December 29 for a non-conference game at Stanford before starting Big 12 Conference play January 4 at home against No. 25 West Virginia.
As for Gonzaga (12-1) potentially reaching No. 1, the Bulldogs do not have a game remaining in regular season against any teams currently ranked in the Associated Press Top 25.
About the writer
Scott McDonald is a Newsweek deputy night editor based in Cape Coral, Florida. His focus is assigning and writing stories across all topics, from news to politics, business, weather, sports and international news. Scott joined Newsweek in 2018 after a lengthy career of print journalism in Texas, including The Dallas Morning News, where he was a sportswriter, and he's a voter for the Heisman Trophy. He has been a newspaper editor-in-chief and also a newspaper publisher. He is a graduate of The University of Texas at Austin. You can get in touch with Scott by emailing s.mcdonald@newsweek.com. Languages: English