A Kansas man with a non-pandemic-related health issue died after waiting for an intensive care unit (ICU) bed to become available in his area. Most of the local ICU beds had been taken by COVID-19 patients.
Rob Van Pelt's heart stopped on August 17 while undergoing a routine procedure at McPherson Hospital in central Kansas.
"He flatlined under light sedation," Van Pelt's family wrote on a GoFundMe page raising money for his medical costs. "He was able to be revived after many attempts and what went from a routine 20-minute appointment left him without oxygen for several minutes."
He was airlifted to a Wichita hospital for treatment. There, doctors said he was having unexplained brain seizure activity and needed to go to a hospital with a neurological ICU, The Kansas City Star reported. However, the care team had trouble locating an ICU able to take him.
Though they initially began the process of getting him into an Oklahoma City hospital, the arrangement didn't work out.
"Due to COVID-19, the waiting list for a bed is unknown," the family wrote on August 20.
Later that day, he was transferred to Ascension Via Christi St. Francis in Wichita, Kansas. Overall, it took three days to get him into an ICU. Two days later, he died. The family has said they're still unsure why he experienced so many medical difficulties during a routine procedure.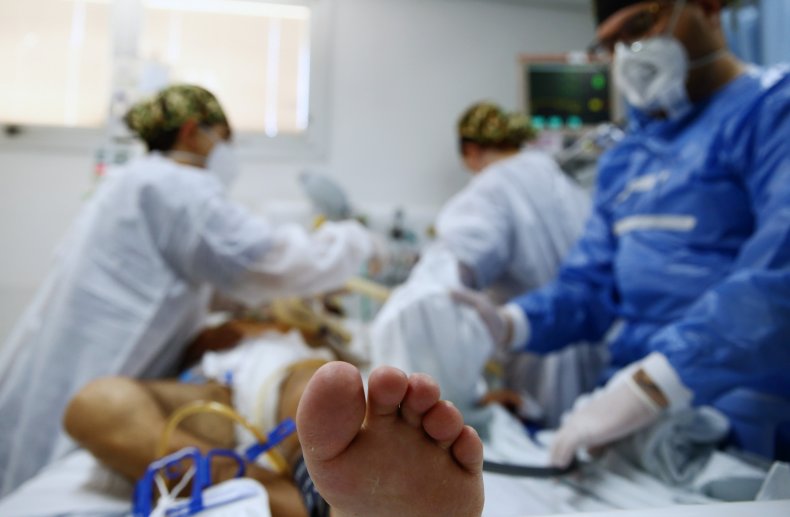 As of August 27, hospitals across the Kansas City area only have 14 percent of their ICU beds available, according to the Mid-America Regional Council (MARC). MARC is a nonprofit association of city and county governments that has also helped compile local COVID-19 hospital data during the pandemic.
Allison Edwards, a regional doctor, told the Star that she too has had trouble finding hospital beds for people needing specialized medical care.
"Hospital after hospital after hospital did not have beds. There was absolutely no room for [such patients] to be taken," she told the publication. "It just breaks my heart that we're at this point... How do you start to make these decisions of where to put your priorities when business as usual can't happen?"
Additionally, patients of all sorts, COVID and non-COVID, are staying hospitalized for longer periods of time, according to Jennifer Sutherlin, MARC's healthcare coalition coordinator. Sutherlin said this may be due to hospitals and people delaying wellness checkups, surgeries and other preventative healthcare during the pandemic.
Sutherlin said that hospitals in the Kansas City metro area have had to transfer patients to hospitals in Chicago, Oklahoma City, Denver and St. Louis to receive care.
Newsweek contacted MARC for comment.