Kansas Official Who Told Black Woman He's Member of 'Master Race' Resigns
After making a comment deemed racist and discriminatory during a board meeting, Kansas's Leavenworth County Commissioner Louis Klemp resigned from his position.
At a board meeting on November 13, Triveece Penelton, who is African-American and a city planner, gave a presentation before the Leavenworth County board. During the meeting, Klemp said that both he and Penelton had gaps in their teeth, which signified their superiority.
"I don't want you to think I am picking on you because we are part of the master race. You have a gap in your teeth. We are part of the master race, don't you forget that," Klemp said, according to KSHB.
Off-camera, he told KSHB that the comment was a joke, but it drew outrage from both the public and government officials, who called for his resignation. On Tuesday, Klemp delivered his resignation letter to the county clerk's office and it was later read during Tuesday's commission meeting.
"I regret my recent comment made during a Leavenworth County Commission meeting and for the negative backlash to the community," Klemp wrote. "My attempts at identifying a similarity, space between our teeth, with a presenter were well-meaning but misinterpreted by some and definitely not racially motivated. I have reached out to the presenter and extended my regret and support."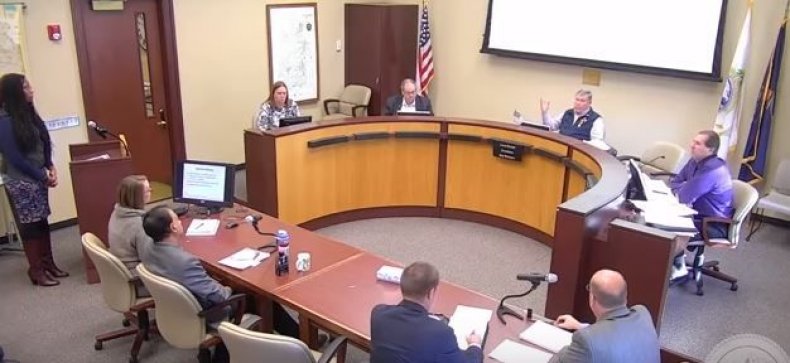 On Tuesday, Penelton said in a statement to the Kansas City Star that throughout her 16 years of professional experience, she'd been subjected to a "wide range of tactless and at times covertly racist comments." However, she called Klemp's words the most "unthinking."
"I am prayerful that our nation and the world will learn from this moment and recognize that respect for one another's history, culture, perspective and impact is essential," Penelton said in her statement. "Respecting one another could help us grow together rather than apart."
The superiority of a "master race" was a tactic used by Nazi Party Leader Adolf Hitler, who attempted to rid the world of anyone who wasn't. in his view, fit for the "master race." Leavenworth County Administrator Mark Loughry said in a statement obtained by NBC News that Klemp's comments weren't a reference to Nazis.
"On several occasions over the past year, Mr. Klemp has made reference that those with a gap in their front teeth are members of the master race," Loughry said. "At Tuesday's meeting, he stated that he and the lady presenting to the board were members of the master race due to the gap in their teeth."
Loughry said that his explanation of the comments wasn't a defense of Klemp, however. Following the comments at the November 13 board meeting, several government officials called for Klemp to resign from his position before his term ended on January 15.
Commissioners Robert Holland and Doug Smith, the other two members of the board, were among those who called for him to step down. Smith told the Leavenworth Times that it was in the best interest of the country if Klemp stepped down.
"I was shocked. I was in disbelief," Holland added. "He should resign. I don't care if he's got two days left, he should resign."
Kansas Governor Jeff Colyer also showed his support for Klemp's resignation, calling his remarks "unacceptable" and unreflective of the values of the country in a statement on Twitter.
"Racial and discriminative language have no place in our society, and most especially when spoken by someone holding a public office," Colyer said in a statement.
The city of Leavenworth said on Facebook that it also supported Klemp stepping down but added that there was nothing the city government could do to remove him.
Klemp's resignation was effective as of Tuesday morning.
Kansas Official Who Told Black Woman He's Member of 'Master Race' Resigns | U.S.