Kansas Official Tells Black Woman He's Member of the 'Master Race:' 'Don't Ever Forget That'
A Kansas County commissioner is facing calls to apologize after telling a black woman that he is part of the "master race" during a routine public planning meeting.
The remark was made on Tuesday by Leavenworth County commissioner Louis Klemp, a white man, and seemingly directed at a woman presenting for an architecture firm. It has been branded as racist—and local media reported it was not the first time Klemp has sparked controversy.
"I don't want you to feel like I'm picking on you. Because we are part of the master race," he said in the meeting. "You have a gap in your teeth you're the master race, don't ever forget that."
Bob Holland, another Leavenworth County commissioner, told KCTV5 that Klemp—who is reportedly due to leave his position on January 15 next year—should make an apology.
"What's this master race?" Holland said on Wednesday. "None of us are a master race. We are all Americans, we are all human beings. I think he is a racist. I do. I think he owes an apology to that woman. I think he owes an apology to the whole commission. And the county."
KSHB-TV reported that Klemp was not elected to his role as commissioner but appointed by the Republican committee after another member resigned due to ill health. When approached by the news outlet, Klemp claimed his comment was meant as a joke.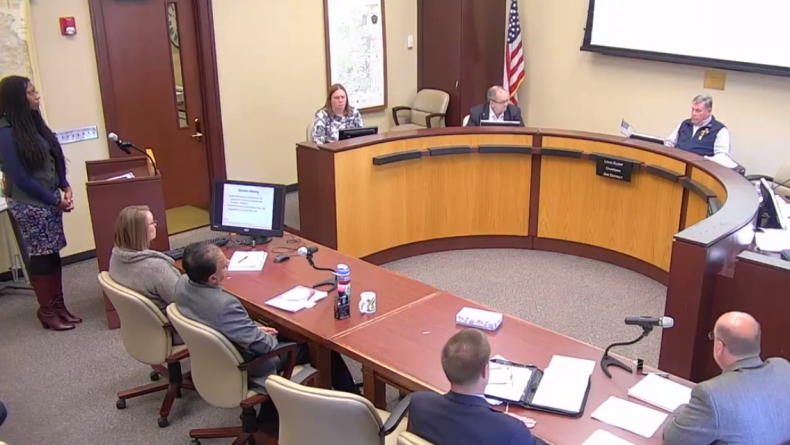 Read More: Trump ad conflating caravan migrants with convicted cop-murderer condemned as "racist"
But Holland told KSHB-TV: "I'm ashamed of one of our commissioners and what he has done. We shouldn't be labeled as Leavenworth County, the racist county. That's the way I feel we are being labeled." It was not the first time he had criticized his Leavenworth colleague.
Last year, Klemp made local headlines after comments he delivered regarding Robert E. Lee and George Washington in a routine meeting set to approve the county's holiday schedule.
"Not everybody does them all because we have Robert E. Lee...Oh God, Robert E. Lee, wonderful part of history," the commissioner said, referring to the Confederate commander during the American Civil War.
Klemp said in the meeting that his great, great grandfather had owned a slave and claimed that George Washington would never be given a holiday because he owned slaves.
"If we're going to have Martin Luther King Day, why don't we have a George Washington? I think George was a pretty important guy," he said, before going on to ask if Oprah Winfrey would be given a holiday. Holland said at the time Klemp had "embarrassed" the county with this remarks.
"Mr. Klemp certainly embarrassed Leavenworth County to the extreme," Holland stated. "I just believe that he embarrassed himself, his family and our Leavenworth County taxpayers."