Kansas Poison Control Sees Rise in People Injecting Cleaning Chemicals
The poison control center in Kansas has recently seen a 40 percent increase in "cleaning chemical cases," according to the state's Department of Health and poison control center.
"We've really seen a spike in calls relating to cleaning products starting in March, where compared to last year, we have had a 55 percent increase in calls related to cleaning products," Elizabeth Silver, managing director at the University of Kansas Health System's poison control center, told Fox 4 News in Kansas. "In April, actually, we are up to about 40 to 45 percent in calls."
Dr. Lee Norman, the Secretary of the Department of Health and Environment in Kansas, cited the state's poison control center during a press conference on Monday, when talking about the increase in "cleaning chemical cases."
"Including a fellow who over the weekend drank a product because of the advice he received," Norman said on Monday. "So, we're doing what we can to counter-message against that kind of remedy."
The increase in calls to the Kansas poison control center comes after President Donald Trump appeared to suggest that injecting cleaning and disinfecting products could be a treatment method for the new coronavirus.
"I see the disinfectant that knocks it out in a minute, one minute," Trump said at an April 23 press conference, in regard to treating the coronavirus. "And is there a way we can do something like that by injection inside or almost a cleaning? As you see, it gets in the lungs, it does a tremendous number on the lungs, so it would be interesting to check that."
On April 24, White House press secretary Kayleigh McEnany released a statement noting that Trump "has repeatedly said that Americans should consult with medical doctors regarding coronavirus treatment, a point that he emphasized again during yesterday's briefing."
Trump has also said that his suggestion was "sarcastic."
Health officials in other states such as New York and Maryland have also reported an increase in calls to their poison control centers, with a majority of the calls relating to exposure to cleaning and disinfectant products.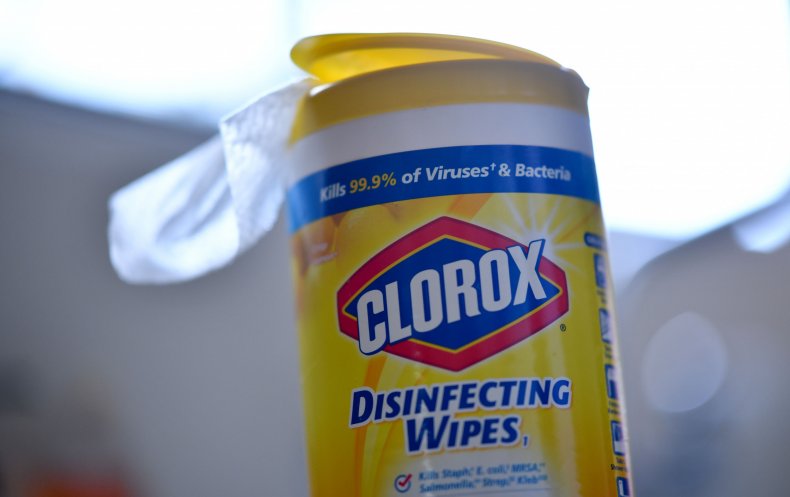 In an email sent to Newsweek, the New York City Department of Health and Hygiene showed the number of calls to the poison control center in regard to household cleaning supplies totaled 395 from April 20 to April 26. This is up from the same time last year, when 190 calls were reported.
While appearing on ABC News This Week, Maryland Governor Larry Hogan spoke about the state seeing an increase in calls to the poison control center.
"Hundreds of calls come into our emergency hotline at our health department asking if it was right to ingest Clorox or alcohol cleaning products—whether that was going to help them fight the virus," Hogan said. "So, we had to put out that warning to make sure that people were not doing something like that, which would kill people actually to do it."
Following the increase in calls to state's poison control centers, both Lysol and the American Association of Poison Control Centers released statements warning Americans of the dangers these cleaning products.
"As a global leader in health and hygiene products, we must be clear that under no circumstances should our disinfectant products be administered into the human body," Lysol wrote in a statement posted to Twitter.
"Disinfectants are not intended to be used on the skin or in the body because they can irritate the skin or cause toxic effects if swallowed," the American Association of Poison Control Centers wrote in a statement.