What Kansas 2020 Polls Say About Marshall vs. Bollier Senate Race
The Kansas 2020 Senate race began to take shape on Tuesday night as Republicans and Democrats picked their nominees for the key race in primary elections held across the state.
State Sen. Barbara Bollier seized the Democratic nomination with a commanding lead over her rival Robert Tillman. Roughly 86 percent of state Democrats backed Bollier while just 14 percent opted for Robert Tillman, according the latest count by The New York Times.
The GOP Kansas primary was less decisive. Roger Marshall beat second place candidate Kris Kobach by 14 percentage points, holding just 40 percent of the party vote in the early hours of Wednesday morning.
But President Donald Trump still appeared by speakerphone at Marshall's primary victory celebration, congratulating his campaign team on an "incredible race" for the Republican nomination in Kansas' key Senate contest.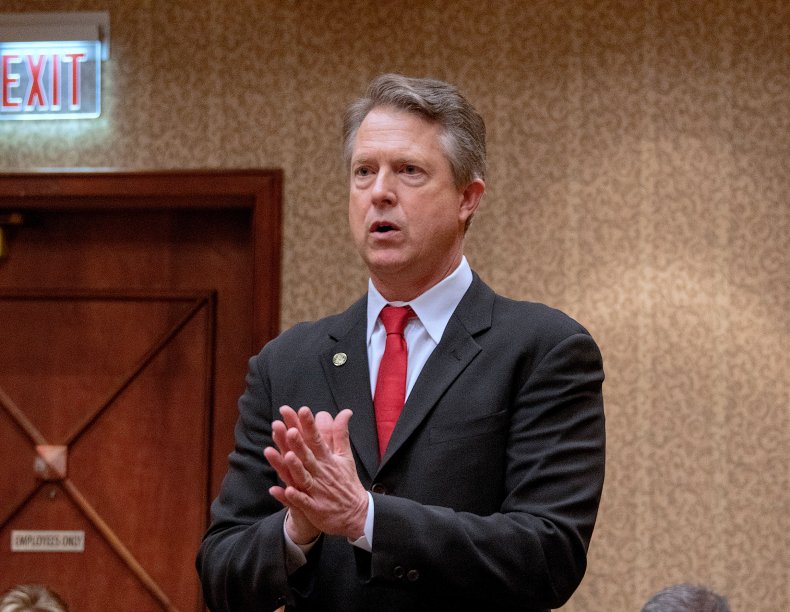 "We have to win on November 3rd, we have to win a couple of them on November 3rd," the commander-in-chief said. "But congratulations to everybody, it's a big night."
Delivering her victory speech on Tuesday night, Bollier said: "I'll be an independent voice. I'll be a voice of reason, because I believe that's what the times call for. And today, it's what Kansans called for as well."
Few head-to-head polls between Bollier and Marshall have been conducted so far in the Kansas Senate race, but the polling that does exist has tended to favor the Republican nominee's chances in November.
A poll conducted between May 17 and 19 by the National Republican Senatorial Committee, and obtained by the Kansas City Star, found that Marshall held a strong 11-point over his Democratic challenger.
Forty-six percent of state voters said they would back the GOP candidate, while 35 percent said they intended to vote for the Democratic nominee. The telephone poll surveyed 506 likely voters and had a 4.5 percent margin of error.
A more recent survey carried out by the pollster Civiqs in June found Marshall and Bollier were almost neck-and-neck heading into the race for the state's open Senate seat.
Forty-two percent of registered voters polled in the state said they would vote for Marshall in a head-to-head against Bollier, who was backed by 41 percent of state voters. A further 9 percent of Kansans said they would be voting for a third party candidate.
The 1-point gap between the candidates was within the poll's 4.2 percentage point margin of error, meaning the candidates were statistically tied.
Analysts at The Cook Political Report still slightly favors the GOP candidate, rating the coming Kansas Senate race as leaning toward a Republican victory.