Kansas Republican Defends Machine Gun Replica in Parade Amid Backlash
Kris Kobach, the Kansas Secretary of State and Republican gubernatorial candidate, is standing by his decision to ride in a parade this weekend in a jeep with a replica of a machine gun mounted to the top.
"The outrage over the replica gun on the back of a patriotic jeep is the left trying to attack guns and your #2A rights," Kobach tweeted. "I will not back down in the face of a snowflake meltdown and outrage culture."
Photos of the vehicle show a jeep painted with an American-flag color scheme and signs supporting Kobach's gubernatorial campaign. A machine gun replica is mounted to the top of the car, in between the driver and passenger seats.
Kobach's defense of the display cames amid backlash from parade-goers who found the replica gun unsettling. "It was pretty shocking," John Lewis, a local pastor, told the Kansas City Star. "There were audible gasps from the folks we were sitting by."
Get your unlimited Newsweek trial >
"I'm sure that people felt happy to see it," Jo Ella Hoye, a leader of a Kansas-based pro-gun control group, told the Star. "Some people might have been afraid to see it."
Kobach continued his defense of the replica gun Sunday during an interview with Breitbart, where he is a columnist. "For centuries in America, most parades have featured men with guns, whether it be the color guard carrying the flag, or military equipment old and new," he said. "The snowflakes now want to erase this American tradition because someone might be offended."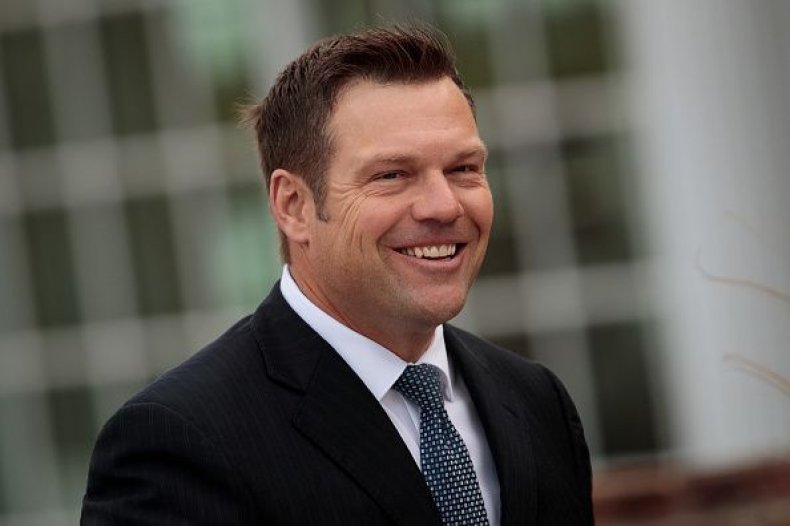 While Kobach continues to defend his display, The city of Shawnee, which hosted the Shawnee Days Parade, released a statement Saturday apologizing to the community.
Get your unlimited Newsweek trial >
"We want to apologize for the concern and frustration involved with Mr. Kris Kobach's parade entry," the statement said. "In no way does this or any parade entry or float directly reflect the views and values of the City.
"We will be taking steps in the future to try to ensure something similar does not happen again."
Kobach is no stranger to controversy, especially surrounding guns and gun control. In April, on the same day high school students participated in a nationwide walkout for gun control, Kobach held a pro-gun rights rally on the steps of the Kansas State Capitol.
Kobach trails incumbent Jeff Colyer by 2 percentage points in the Kansas gubernatorial race, according to February and May polls by Remington Research Group.
Kansas Republican Defends Machine Gun Replica in Parade Amid Backlash | U.S.