Kansas Son Charged With Murdering His Sheriff Deputy Father: 'It Is Futile to Ask "Why" Such Things Happen'
The son of a Kansas sheriff's deputy who was killed at his home in a suspected domestic incident has been charged with his murder.
Zachary Arnold, 22, is accused of shooting dead his father, Capt. Chris Arnold of the Wyandotte County Sheriff's Office, in Kansas City on Saturday, October 5, a spokesman for the Wyandotte County District Attorney's Office confirmed to the Kansas City Star.
Chris Arnold was not on duty at the time of the shooting in the 2800 block of North 76th Street.
Authorities have not released any details about what led up to the shooting. Online records show that Zachary Arnold is currently being held with no bond at the Johnson County jail charged with premeditated fist degree murder.
Tributes have been paid to the fallen officer, who would have turned 59 years old on Monday.
"Life is hard in one way or another on many occasions, and it's hard to make sense of events such as these. I learned a long time ago that it is futile to ask 'why' such things happen, especially to really good people," Wyandotte County Sheriff Don Ash said in a statement.
"I don't think I will ever forget Chris Arnold and those of you that knew him, even for a short period of time, probably won't forget him either. Let's pull together in this difficult time and bring honor to Chris' life and service."
Jeff Tayler, president of the Fraternal Order of Police Wyandotte County, described how "we take a step back into the darkness and evil of this world" every time an officer is killed.
"Today we lost a good man. A man who has been a public servant for over twenty years. It pains me to think how he passed. Our hearts remain heavy and seem to never find relief," Tayler said.
"As a child I was always told that the man upstairs only gives you what you can handle. It sure seems like our plate is full.
"This is what it means to take the watch. This is what it means to walk the line. So as we mourn our lost brother, we can find comfort that the watch is being taken. Today again we are ash. Tomorrow we are the mighty Phoenix. So rest easy my brother, we will take the watch from here."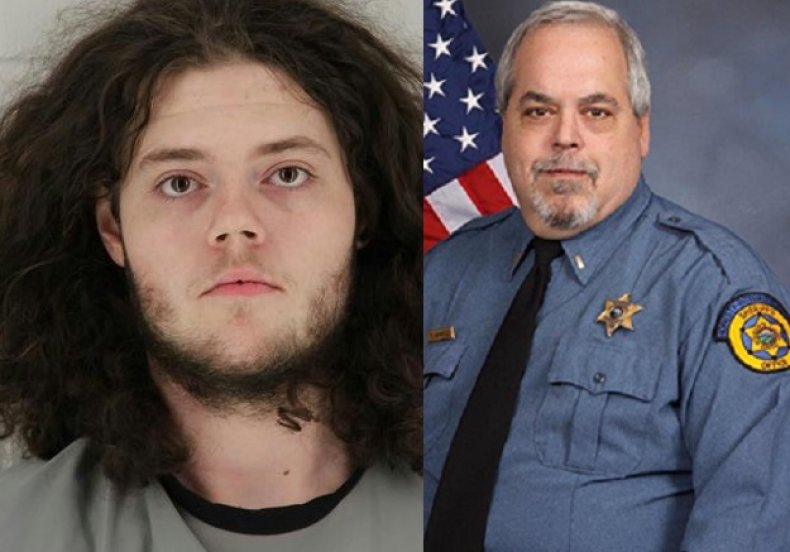 In June 2018, two Wyandotte County police officers were killed on duty while transporting an inmate to court. Deputies Theresa King and Patrick Rohrer were shot by one of their own weapons after the inmate overcame them outside a courthouse in Kansas City.