Kansas Woman Spies Snake Slithering Inside Gas Pump Touchscreen
A Kansas woman was shocked to discover a live snake slithering across the touchscreen at the gas pump she was using.
When motorist Holly Malkames saw something odd inside the touch screen at the Minit Mart gas station in Gardner, she wasn't sure what she was looking at. At first she thought some rubber molding was just falling inside the glass screen. When the unidentified object started moving around, Malkames assumed it was a digital video.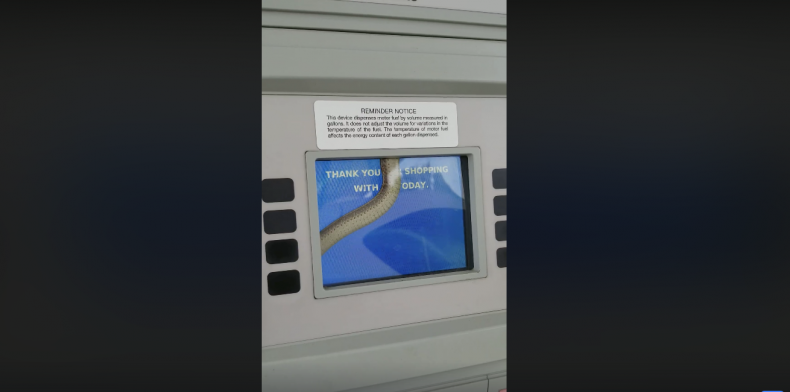 "Know how some of the stations have those videos on there?" she told KCTV. "I thought it was one of those. Like, a trick."
"Some of those stations have those entertainment videos on there. I thought maybe it was one of those," she said.
But when the reptile's head became visible, Malkames realized it was a live snake slithering around inside. She says she was so grossed out she didn't want to proceed when the screen asked if she wanted a car wash.
Malkames did finish filling up, but said she was worried the whole time that the snake would find its way out. She took a video of the incident and later posted it on Facebook.
"Went to get gas and there was a snake INSIDE the pump! At one point it even dropped its head down where I could see it! #creepsmeout #heebiejeebies #slither #pump6"
In the video, the underside of the snake is visible as it inches slowly across the screen over the words "Thank You for Shopping with Us Today."
A store clerk later removed the snake, which in reality looked a lot smaller than it did in the video—Malkames suggests the Plexiglass magnified the serpent's size.
She opted not to name the gas station, writing, "I don't want to cause any harm to a gas station's business or create bad publicity. Just sharing how crazy it was that a snake was inside!"
Malkames says she'll still return to the Minit Mart, but may opt to use a different pump.
Snakes' ability to contort into small spaces has earned them a reputation for being unexpected visitors: In 2017, a viral video showed a man slowly pulling a lengthy snake out of the holster for a gas pump nozzle.
Just last week, a four-foot-long python was spotted inside a sewer grate at an Esso station in Toronto. Firefighters were able to remove the grate and secure the snake, which was taken to the precinct house until Animal Services could arrive.
An Animal Services officer told The Weather Network the python was likely abandoned by its owner.
"Anyone that is no longer able to care for a snake is strongly encouraged to surrender it to a local herpetological society."
Kansas Woman Spies Snake Slithering Inside Gas Pump Touchscreen | U.S.