Kansas Supreme Court Nominee's Battle With Anti-Abortion Group Again Raises Specter of 'Judicial Activism'
The Kansas Supreme Court is in the process of filling three vacancies but an influential anti-abortion group opposes a nominee for what they consider political bias.
Shawnee County District Judge Evelyn Wilson, the chief judge for the district which includes the state capital, was selected by a state nominating commission led by attorneys. The anti-abortion group, Kansans for Life, announced its opposition to her candidacy citing Judge Wilson's husband's past political contributions to abortion-rights candidates, reports the Associated Press.
Two veteran attorneys who work for the state's Republican attorney general were also announced as finalists, Deputy Attorney General Dennis Depew and Assistant Solicitor General Steven Obermeier. Democratic Governor Kelly's appointee will go on the court without any review by the Republican-controlled Legislature.
Kelly took office in January and she now has two vacancies to fill in the next few months because of retirements on the Supreme Court.
Conservatives have been trying to overturn a ruling from the Kansas Supreme Court protecting abortion rights and are pushing to require state Senate confirmation of the high court's members. Both of these changes would require amending the state constitution.
Kansans for Life is "a nonprofit advocacy and educational organization" whose legislative division offsets pro-abortion lobbyists and presents a professional pro-life voice in the Kansas Legislature.
Kansans for Life was a key part of an unsuccessful election campaign effort in 2014 and 2016 to oust six of the seven justices.
Though Wilson's husband, Michael, has donated in the past to Governor Kelly's campaigns, he was elected as a GOP precinct committee member last year and said of his wife, "Evelyn doesn't get involved in politics."
Conservatives in Kansas may be worried about "judicial activism," a phrase that has been co-opted by both sides of the aisle..
In his original article on the Supreme Court that popularized the term "judicial activism," Arthur Schlesinger Jr. wrote that the Court cannot possibly escape politics.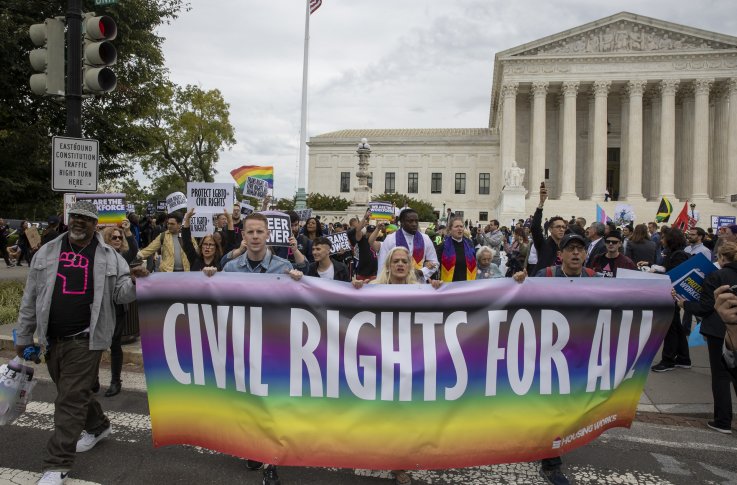 Merrick Garland, former President Obama's nominee for Associate Justice of the Supreme Court of the United States, was seen as an activist judge by some conservatives by how he ruled on a 2007 gun rights case.
Liberals opposed the post-2000 presidential election court case ruling in Bush v. Gore, where the U.S. Supreme Court intervened in a state decision that affected the whole nation by taking an activist approach.
But the charge of judicial activism was loudest under Chief Justice Earl Warren. During his tenure, he handed down decisions that had a lasting effect on American culture, such as Brown v. Board of Education, Gideon v. Wainwright, Miranda v. Arizona and Engel v. Vitale.
Ending school segregation, providing legal counsel to defendants who cannot afford a lawyer, informing criminal suspects of their rights before interrogation and deeming compulsory prayer to be a violation of the separation of church and state were considered liberal issues that many people opposed at the time.
With the number of controversial judicial appointments in the past few years under the Trump administration, there may be more cries of judicial activism from the left.
Kansas Supreme Court Nominee's Battle With Anti-Abortion Group Again Raises Specter of 'Judicial Activism' | News