Kansas Park Owner Arrested After 10-Year-Old Boy Decapitated on World's Tallest Waterslide
Authorities arrested the co-owner of a Kansas water park on Monday (26 March), over the case of a 10-year-old boy who was decapitated in 2016 while on a raft ride billed as the world's tallest waterslide.
Jeffrey Henry, 62, co-owner of the Schlitterbahn Waterparks and Resorts, was jailed in Cameron County and charged with murder, aggravated battery and aggravated child endangerment, according to Cameron County's Inmate List.
"Considering the allegations from Friday's indictment, we were not surprised at the actions taken by the Attorney General to charge Jeff," Winter Prosapio, a Schlitterbahn Waterpark spokesperson, said in a statement.
"We as a company and as a family will fight these allegations and have confidence that once the facts are presented it will be clear that what happened on the ride was an unforeseeable accident."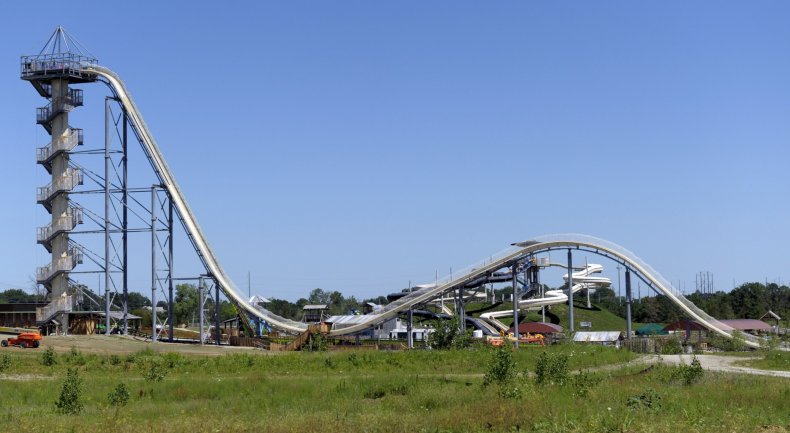 Last Friday, a Kansas grand jury indicted the Schlitterbahn park and Tyler Austin Miles, its ex-operations director, on 20 felony charges, including involuntary manslaughter.
Caleb Schwab, 10, and two women were on a raft in the Verrückt waterslide in August 2016, when their vessel flew into the air and collided with a meal hoop. Schwab was instantly decapitated while the two women both suffered severe injuries.
Sources revealed to police detectives that some other rafts had gone airborne prior to the incident that left Schwab decapitated, according to the indictment against Miles and the Schlitterbahn Waterpark.
Miles failed to make repairs to the Verrückt, even after the ride's brake system failed, and reportedly told investigators that he was unaware of previous water park complaints.
Henry was involved in the design of the giant slide, despite having "no technical or engineering credentials," the indictment added.
The 170-foot-tall Verrückt, which was opened in 2014, was deemed by the Guinness World Records as the world's tallest water slide. "Verrückt" is a German word for "crazy or insane". The slide has been closed since Schwab's accident.